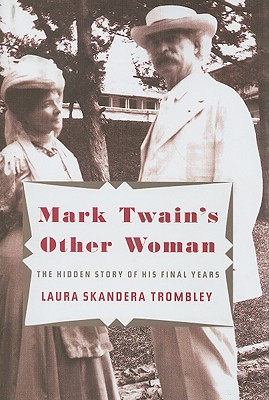 Mark Twain's Other Woman (Hardcover)
The Hidden Story of His Final Years
Knopf, 9780307273444, 352pp.
Publication Date: March 16, 2010
* Individual store prices may vary.
Description
An enduring mystery in Mark Twain's life concerns the events of his last decade, from 1900 to 1910.

Despite many Twain biographies, no one has ever determined exactly what took place during those final years after the death of Twain's wife of thirty-four years and how those experiences affected him, personally and professionally. For nearly a century, it was believed that Twain went to his death a beloved, wisecracking iconoclastic American ("I am not an American," Twain wrote; "I am the American"), undeterred by life's sorrows and challenges.

Laura Skandera Trombley, the preeminent Twain scholar at work today, suspected that there had to be more to the story than the cultivated, carefully constructed version that had been intact for so long. Trombley went in search of the one woman whom she suspected had played the largest role in Twain's life during those final years and who possibly held the answers to her questions about Twain's life and writings.

Now, in Mark Twain's Other Woman, after sixteen years of research, uncovering never-before-read papers and personal letters, Trombley tells the full story through Isabel Lyon's meticulous daily journals, the only detailed record of Twain's last years that exists, journals overlooked by Twain's previous biographers.

For one hundred years, Isabel Van Kleek Lyon has been the mystery woman in Mark Twain's life. Twain spent the bulk of his last six years in the company of Isabel, who was responsible for overseeing his schedule and finances, nursing him through several illnesses, managing his increasingly unmanageable daughters, running his household, arranging amusements, as well as presiding over the construction of his final residence. Isabel Lyon also served as Twain's adoring audience (she called him "the King"), listening attentively as he read aloud to her what he'd written that day. She was Twain's gatekeeper to an enthralled public.

Trombley writes about what happened between them that resulted in the dramatic breakup of their relationship; about how, in Twain's final months, he gave bitter, angry press conferences denouncing her; how he ranted in personal letters that she had injured him, calling her, "a liar, a forger, a thief, a hypocrite, a drunkard, a sneak, a humbug, a traitor, a conspirator, a filthy-minded & salacious slut pining for seduction." Trombley writes that Twain's invective bordered on obsession (he wrote about Isabel for hours every day, even while suffering from angina pains and gout attacks) and about how, despite the inordinate attention he gave her before his death, Isabel Lyon has remained a friendless ghost haunting the margins of Twain's biography.

For decades, biographers deliberately omitted her from the official Twain story. Her potentially destructive power was so great that Twain's handpicked hagiographer, Albert Bigelow Paine, allowed only one timorous reference to her in his massive three-volume work, Mark Twain: A Biography (1912).

Isabel Lyon was a forgotten woman, "so private," she wrote in her journal, "that the very mention of me [was] with held from the world. . ."

This riveting, dark story that "the King" determined no one would ever tell is now revealed at last.
About the Author
Laura Skandera Trombley was raised in Southern California and attended Pepperdine University, where she earned her BA and MA, and the University of Southern California, where she earned a PhD in English literature. She is the president of Pitzer College in Claremont, California, and is the author of "Mark Twain in the Company of Women." She lives in Claremont with her husband and son.
Praise For Mark Twain's Other Woman: The Hidden Story of His Final Years…
"Provocative . . . a strong challenge to the iconic image of an iconoclast."

—Booklist

"Like Letters from the Earth, Twain continues to give long after his death. Now, we have Laura Trombley's fascinating narrative of his last days and his little-known relationship with Isabel Lyon. The pieces begin to fall into place; the funniest man on earth is revealed to be a much more complicated soul. It was Twain after all who said, "The secret source of humor is not joy but sorrow; there is no humor in Heaven."

—Ken Burns, filmmaker

"A riveting tale of the vortex of ambition, desire, jealousy and obsession swirling round one Great Man."

—Emma Donoghue, author of Slammerkin and The Sealed Letter

"This book is a revelation. Thanks to hitherto unpublished letters and diaries of a witness who was snubbed and excluded in previous works, we now have a first-rate account of Mark Twain's last decade. This account gives us a candid look at the cross currents of wit, charm and irrational angers that marked and marred the great man's final years. Trombley's discoveries make for an illuminating portrait, and essential reading."
                            
 —Meryle Secrest, author of Duveen: A Life in Art and Somewhere for Me: A Biography of Richard Rodgers

"Researched to a tee, Mark Twain's Other Woman: The Hidden Story of His Final Years tells a story of dysfunction, deceit, and duplicity the likes of which we associate not with Mark Twain—but the pages of Henry James."
 
—Brenda Wineapple, author of White Heat and Hawthorne 
or
Not Currently Available for Direct Purchase