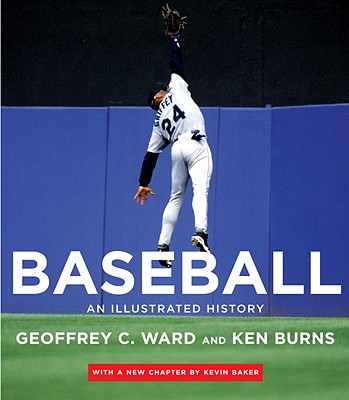 Baseball: An Illustrated History (Hardcover)
An Illustrated History
Knopf Publishing Group, 9780307273499, 564pp.
Publication Date: September 21, 2010
* Individual store prices may vary.
or
Not Currently Available for Direct Purchase
Description
The companion volume to Ken Burns's magnificent PBS television series updated and expanded to coincide with the broadcast of a new, two-part Tenth Inning, directed with Lynn Novick.
The authors of the acclaimed and best-selling The Civil War, Jazz, and The War turn to another uniquely American phenomenon: baseball. In words and pictures they provide a stunningly rich evocation of our beloved national pastime, a game woven inextricably into the fabric of our lives and our national memory.
Geoffrey C. Ward and Ken Burns's moving and fascinating history of the game goes beyond stolen bases, double plays, and home runs to demonstrate how baseball has been influenced by, and has in turn influenced, American life: politics, race, labor, big business, advertising, social custom, literature, art, and morality. The book covers every milestone of the game: from the rules drawn up in 1845 by Alexander Cartwright to the American League's introduction of the designated hitter in 1973; from the founding of the Brotherhood of Professional Base Ball Players in 1885 to the eight-month players strike of 1994; from the 1924 Negro World Series (Kansas City Monarchs vs. Philadelphia Hilldales) to Jack Roosevelt Robinson's major-league debut in 1947; from the first curve ball in 1867 (pitched by Candy Cummings of the Brooklyn Excelsiors) to Nolan Ryan's seventh and last no-hitter in 1991. This new edition brings the authors monumental work into the twenty-first century: steroids, home-run records, the rise of Latino players, the long-awaited Red Sox World Series victory, and so much more.
Nine essays by notable baseball enthusiasts, exploring their individual preoccupations with the game, complement this sweeping narrative. And a wealth of pictures document baseball's evolution since the mid-nineteenth century and bring to life its most memorable figures. Monumental, affecting, informative, entertaining, and sumptuously illustrated Baseball is a book that speaks to all Americans.
With a narrative by Geoffrey C. Ward, a preface to the new edition by Ken Burns and Lynn Novick, a new chapter by Kevin Baker, and an introduction by Roger Angell
Essays by Thomas Boswell Robert W. Creamer Gerald Early Doris Kearns Goodwin Bill James David Lamb Daniel Okrent John Thorn George F. Will
And featuring an interview with Buck O Neil.
About the Author
Geoffrey C. Ward is a historian and biographer and the author of fourteen books. He won the National Book Critics Circle Award in 1989 and the Francis Parkman Prize in 1990. He is also the winner of five Emmys and two Writers Guild of America Awards for his work for public television. He lives in New York City. Ken Burns s films include The National Parks, Jazz, Baseball, and The Civil War, which was the highest-rated series in the history of American public television. His work has won numerous prizes, including the Emmy and Peabody Awards, two Academy Award nominations, and a Lifetime Achievement Emmy Award. He lives in Walpole, New Hampshire. Kevin Baker is the author of the City of Fire trilogy and was the chief historical researcher for Harry Evans s The American Century. He lives in New York City."
Praise For Baseball: An Illustrated History…
"A rich concoction of narrative, essays, and photos [that] dazzles the eye . . . In so many ways you are reminded that rooting for baseball is like breathing." —Christopher Lehmann-Haupt, The New York Times

"Stirring and reflective . . . A beautiful book that stands on its own in any league." —David E. Jones, Chicago Tribune

"Glorious nuggets are set amid the clear, warm narrative and hundreds of classic images . . . Highest marks for browseability, but the true reward comes from the longer essays by folks still smitten by the game." —Jerry Shriver, USA Today
Advertisement