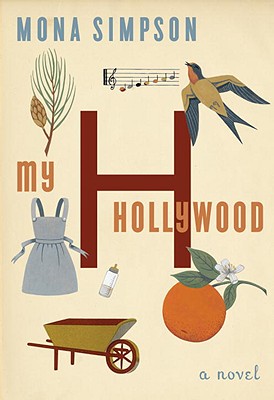 My Hollywood
Hardcover

* Individual store prices may vary.
Other Editions of This Title:
Digital Audiobook (7/31/2010)
MP3 CD (8/1/2010)
Compact Disc (8/1/2010)
Paperback (6/1/2011)
Paperback (8/9/2011)
Description
A wonderfully provocative and appealing novel, from the much-loved author of Anywhere But Here and A Regular Guy, her first in ten years. It tells the story of two women whose lives entwine and unfold behind the glittery surface of Hollywood.

Claire, a composer and a new mother, comes to LA so her husband can follow his passion for writing television comedy. Suddenly the marriage—once a genuine 50/50 arrangement—changes, with Paul working long hours and Claire left at home with a baby, William, whom she adores but has no idea how to care for.

Lola, a fifty-two-year-old mother of five who is working in America to pay for her own children's higher education back in the Philippines, becomes their nanny. Lola stabilizes the rocky household and soon other parents try to lure her away. What she sacrifices to stay with Claire and "Williamo" remains her own closely guarded secret.

In a novel at turns satirical and heartbreaking, where mothers' modern ideas are given practical overhauls by nannies, we meet Lola's vast network of fellow caregivers, each with her own story to tell. We see the upstairs competition for the best nanny and the downstairs competition for the best deal, and are forced to ask whether it is possible to buy love for our children and what that transaction costs us all.

We look into two contemporary marriages—one in America and one in the Philippines—and witness their endangerment, despite the best of intentions.

My Hollywood is a tender, witty, and resonant novel that provides the profound pleasures readers have come to expect from Mona Simpson, here writing at the height of her powers.
Praise For My Hollywood…
"Simpson works her habitual magic, showing how love travels, ownerless and unbidden, among children who need adults, and adults who need children. 'Children, they are dependent for their life,' Lola observed, back in Santa Monica. But so are adults. Sitting with her friends, drinking 'nonfat lattes, ice blendeds, a dozen small consolations,' Claire asks, 'For what, exactly, were mothers always being consoled?' Simpson gently suggests an answer: for their fear of failing in their responsibilities, to their children and themselves, the extent of which they'll only know when their children grow up and tell them what they were."  —Liesl Schillinger, The New York Times Book Review
 
"Simpson's novel shows the intricacies and inequities of domestic politics . . . My Hollywood is a smart, topical, absorbing novel that explores the macro economy, the micro economy and the world of work, both inside and outside the home. Mona Simpson writes adroitly about domestic matters, and she knows the domestic matters." —Jeffrey Ann Goudie, Kansas City Star
 
"It is Lola . . . who holds center stage, emerging as an indelible character — as keenly observed as the mother-and-daughter pair in Anywhere but Here, and as much an avatar, as they were, of the contingencies and compromises of the American Dream."  —Michiko Kakutani, The New York Times
 
"It takes a very subtle, sophisticated and confident writer to make our most common problems come off as unique on the page as they feel at 3 in the morning. If anyone can do it, Mona Simpson, author of Anywhere but Here, The Lost Father, A Regular Guy and Off Keck Road, can. And does. But there's more." —Susan Salter Reynolds, The Los Angeles Times

"Simpson is a virtuoso at allowing her characters to convey their internal landscapes in first-person voices suffused with personality, insight, and wit . . . the real richness of My Hollywood lies in Simpson's gift for conveying enormous meaning in moments depicted so prosaically that they don't reveal their significance at first glance . . . Simpson has given us an expansive and original look at the types of costs incurred in caring for a child, the complexities of commodifying such care, and what it can mean to belong to a family in our contemporary world.  . . . Simpson's novel deftly explores that something in all its pain and comfort." —Jessica Treadway, The Boston Globe

"My Hollywood excels in the richness of its characterization of Lola, a woman no longer sure where or to whom she belongs: in her native country, where she employed servants, or in the U.S., where she is a servant? The holy words of America, Lola says, are There is—Is there milk? 'There is.' She is wise enough to understand her contribution to that abundance (Is there help? There is). But lucky for Williamo, that hasn't made her cynical. Lola loves what she does. It doesn't seem a stretch to imagine her as representative of good nannies everywhere in the US, anxious to work despite a skill set you'd call limited. That is, until you saw her with your child." —Mary Pols, Time

"My Hollywood, Mona Simpson's beautifully realized new novel, tells the story of a bewildered new mother and the live-in nanny she hires so she can continue her work as a composer. An illustration of the difficulties of raising children in dual-career households, as well as the undervalued lives of the domestic workers summoned to help, it's one the most insightful books in years about contemporary American life." —Gregory Leon Miller, The San Francisco Chronicle
 
"[In] My Hollywood, Mona Simpson gives Westside nannies a voice, and her name is Lola."—Los Angeles Magazine
 
"In less-able hands, My Hollywood could be condescending or cynical, but Simpson treats both main characters with respect, allowing truth and cool humor to emerge from the contrast between the ways they see their shared lives."
—Margaret Quamme, The Columbus Dispatch
 
 
 "In her first novel since Off Keck Road, Simpson tells a blistering story of fractured love and flailing parents. Claire, a composer and new mother, has moved to Santa Monica, Calif., so that her husband, Paul, can follow his dreams of becoming a TV comedy writer. When Paul's job requires late nights, Claire, already overwhelmed with balancing motherhood and career, hires Lola, a middle-aged Filipina, to help with her son, William, and soon Lola's trying to plug holes in Claire and Paul's slowly sinking family ship. Claire and Lola narrate in alternating chapters; fragile and sometimes fierce Claire deploys a biting wit that shreds the pretensions that permeate her social life and her marriage, while Lola is more open-hearted and eager to help people, though she also draws laughs with her observations about wealthy families. The story both satirizes and earnestly assesses the failings of upper-middle-class L.A., and Simpson's taut prose allows her to drill into the heart of relationships, often times with a single biting sentence. Funny, smart, and filled with razor sharp observations about life and parenthood, Simpson's latest is well worth the wait."  —Publishers Weekly, starred review

"In her arresting portrayals of Lola and her nanny and housekeeper friends, Simpson explores a facet of American society rarely depicted with such insight and appreciation.  As Lola and Claire tell their intertwined stories, Simpson subtly but powerfully traces the persistence of sexism and prejudice, the fear and injustice inherent in the predicaments of immigrants, and the complexity and essentiality of all domestic relationships." —Donna Seaman, Booklist
 
"A darkly beautiful atlas of the American promised land, and a definitive novel of modern domesticity.  Brilliant, in short." —Joseph O'Neill 
 
"In Mona Simpson's new novel about a modern marriage and its discontents, the saga of its Filipina domestic sketches a new variation on the American dream…that reality runs through this intimate, ironic tale, in which Lola's nanny allies, and adversaries, all of differing nationalities, become a brilliant Greek chorus reflecting and refracting Lola and Claire's interdependence and their divide."  —Lisa Shea, Elle
 
"New mother Claire, a cellist and classical composer, is married to a workaholic TV writer and stranded in a cultural desert.  Uncertain of her parenting skills and desperate for creative time, she hires a Filipina nanny, Lola.  Writing in both women's voices, Simpson (Anywhere But Here) deploys a sharp eye and mordant wit to show us the backstairs view of a Hollywood we've never seen." —Roxana Robinson, More Magazine
 
"The two women narrate alternating chapters, and the contrast in their voices is a double-Dutch game of masterful writing: Claire, privileged and damaged, floats along in a daze of unfulfillment, while the ever-practical Lola observes the L.A. milieu with a realist's eye in imperfect yet oddly poetic English . . . It's the tender, persevering Lola who is the book's true emotional pulse . . . A character as rich as Lola won't easily fade from anyone's mind."
—Missy Schwartz, Entertainment Weekly
 
"This is classic Simpson . . .  she is direct, unsentimental, an observer coolly marking down the customs of the domestic world . . . the household dynamics, in which the most serious and potent truths are told."  —David Ulin, O Magazine
 
"An honest and poetic exploration of why caring for a child—whether by a mother or a nanny—still just can't get the respect or security it deserves." —Nina Sankovitch, The Huffington Post  
 
"A hilarious and heartbreaking take on the real housewives of Southern California."—Marie Claire
 
"Simpson's massive gifts—for unflinching precision, for artful indirection and for the deft unfurling of imagery—are on vivid display in My Hollywood, a book that carries us down deep, into the darkness of two distinct worlds, and lights them up, finding all the comedy in the ways they are the same world, and all the tragedy in the unbridgeable distance between them." —Michael Chabon
 
 
 
 
Knopf, 9780307273529, 384pp.
Publication Date: August 3, 2010
About the Author
Mona Simpson is the author of "Anywhere But Here, The Lost Father, A Regular Guy, "and "Off Keck Road, " which was a finalist for the PEN/Faulkner Award and won the Heartland Prize of the "Chicago Tribune." She has received a Whiting Writers' Award, a Guggenheim grant, a Lila Wallace-Reader's Digest Writers' Award, and, recently, an Academy Arts and Letters Award from the American Academy of Arts and Letters. She lives in Santa Monica, California.
The novel opens with Claire recalling her first date with Paul and their agreement that for a modern couple child rearing would have to be "fifty-fifty." Why doesn't this work out for them?
Are you a parent yourself? How do you relate to Claire's complicated feelings about motherhood?
Why does Claire bring Lola along to care for Will in New York, even though it means she'll lose money on the trip?
Which has more of an effect on the parent-nanny relationships in the novel—race or class? Why? How does it work both ways?
Would this novel be different if Lola were a white American nanny?
Discuss the way Simpson plays with time. Why is the novel set in the 1990s? How does Simpson use foreshadowing and flash-forwards?
When it comes to the children, who has the most power in this novel, the parent or the nanny?
What is the role of fatherhood in this novel?
What is the significance of The Book of Ruth? Why do the nannies write in it?
Is Simpson's novel at all similar to The Book of Ruth?
How does Claire's relationship with her own mother influence her parenting? Does her childhood make her a better parent?
Lola left her own children to earn money by raising other people's kids. Does this make her a bad mother?
How do you think Lola's children will turn out? Do you think they'll have emotional scars from her years away from them?
Why does Lola turn down Helen and Jeff's job offer? Why doesn't she mention it to Claire and Paul?
Discuss gender roles as presented in the novel. How does being male or female affect the characters' lives?
Which man is a better husband and father—Paul or Jeff? Why?
In what ways are Claire's and Lola's marriages similar?
Examine the relationship between Lola and Lucy. Why does Lola do so much for this young woman?
Reread and discuss the scene in which China drowns (page 246). Who is responsible? What do we learn about the nannies from this episode?
Does Claire feel there is a distinction between her career and her music? Which is central to her?
Which character has the most regrets? Are there any central characters who have none?
What is the significance of the Neruda poem on page 349? What is Judith's intention in giving Lola this poem?
Why does Lola return to the Philippines? What does she imagine her life will be like there?
What was your first thought about Claire's surprise visit to Tagaytay? Why do you think she decided to go?
or
Not Currently Available for Direct Purchase