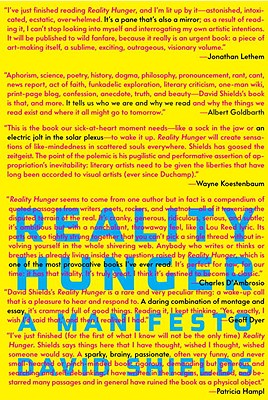 Reality Hunger
A Manifesto
Hardcover

* Individual store prices may vary.
Other Editions of This Title:
Paperback (2/8/2011)
Description
An open call for new literary and other art forms to match the complexities of the twenty-first century.
Reality TV dominates broadband. YouTube and Facebook dominate the web. In Reality Hunger: A Manifesto, his landmark new book, David Shields (author of the New York Times best seller The Thing About Life Is That One Day You ll Be Dead) argues that our culture is obsessed with reality precisely because we experience hardly any.
Most artistic movements are attempts to figure out a way to smuggle more of what the artist thinks is reality into the work of art. So, too, every artistic movement or moment needs a credo, from Horace's Ars Poetica to Lars von Trier's Vow of Chastity. Shields has written the ars poetica for a burgeoning group of interrelated but unconnected artists in a variety of forms and media who, living in an unbearably manufactured and artificial world, are striving to stay open to the possibility of randomness, accident, serendipity, spontaneity; actively courting reader/listener/viewer participation, artistic risk, emotional urgency; breaking larger and larger chunks of reality into their work; and, above all, seeking to erase any distinction between fiction and nonfiction.
The questions Reality Hunger explores the bending of form and genre, the lure and blur of the real play out constantly all around us. Think of the now endless controversy surrounding the provenance and authenticity of the real: A Million Little Pieces, the Obama Hope poster, the sequel to The Catcher in the Rye, Robert Capa's The Falling Soldier photograph, the boy who wasn t in the balloon. Reality Hunger is a rigorous and radical attempt to reframe how we think about truthiness, literary license, quotation, appropriation.
Drawing on myriad sources, Shields takes an audacious stance on issues that are being fought over now and will be fought over far into the future. People will either love or hate this book. Its converts will see it as a rallying cry; its detractors will view it as an occasion for defending the status quo. It is certain to be one of the most controversial and talked-about books of the year.
Praise For Reality Hunger: A Manifesto…
"In his new book, Reality Hunger, David Shields makes a case that a new literary form has arrived. [He] challenges our most basic literary assumptions about originality, authenticity, and creativity. Reality Hunger has caused a stir in literary circles. [The book] has struck a nerve." --Andrew Richard Albanese, Publishers Weekly (cover article) 

"Reality Hunger is an exhilarating smash-up. . . . a work of virtuoso banditry that promises to become, like Lewis Hyde's The Gift for earlier generations, the book that artists in all media turn to for inspiration, vindication, and altercation as they struggle to reinvent themselves against the headwinds of our time." --Rob Nixon, Chronicle of Higher Education 

" Maybe he's simply ahead of the rest of us, mapping out the literary future of the next generation." --Susan H. Greenberg, Newsweek 

"The driving force behind this entertaining and highly persuasive polemic is a frustration with the contemporary mainstream novel. . . . I can't stop recommending it to my friends. There is no more effective description (and example) of the aesthetic concerns of the internet age than this." --Edward King, The Times of London 

"Shields has a point. He gives a damn. He's trying to make a difference. He's using the best of his formidable talents to do that." --Wayne Alan Brenner, The Austin Chronicle   

"I love this book and am amused to see some of the hysterical reactions it's provoked—proof, I think, of its radical truthfulness. Shields is utterly uninterested in providing intellectual comfort; he bravely, uncompromisingly delivers the news." —Walter Kirn
 

"On the one hand: Who does this guy think he is? On the other: It's about time someone said something this honest in print. . . . [I am] grateful for this beautiful (yes, raw and gorgeous) book." —Susan Salter Reynolds, Los Angeles Times
 
"David Shields's radical intellectual manifesto, Reality Hunger (Knopf), is a rousing call to arms for all artists to reject the laws governing appropriation, obliterate the boundaries between fiction and nonfiction, and give rise to a new modern form."
—Vanity Fair
 
"This is the most provocative, brain-rewiring book of 2010. It's a book that feels at least five years ahead of its time and teaches you how to read it as you go."
—Alex Pappademas, GQ
 
"I've just finished reading Reality Hunger: A Manifesto, and I'm lit up by it—astonished, intoxicated, ecstatic, overwhelmed." —Jonathan Lethem
 
"For those of us who have been thinking about these issues for a long time, Reality Hunger is an orgy of geekiness, and Shields is the one responsible for everyone getting laid. Much like Dave Eggers, Shields will be repaid for hooking his friends up by becoming a bona fide tastemaker and culture-shaper. Actually, I don't think it would be too strong to say that Shields's book will be a sort of bible for the next generation of culture-makers. . ."  —David Griffith, Bookslut
 
"This dude's book is the hip-hop album of the year." —Peter Macia, Fader
 
"Good manifestos propagate. Their seeds cling to journals and blogs and conversations, soon enough sprawling sub-manifestoes of acclamation or rebuttal. After the opening call to action, a variety of minds turn their attention to the same problem. It's the humanist ideal of a dialectic writ large: ideas compete and survive by fitness, not fiat. David Shields's Reality Hunger has just the immodest ambition and exhorter's zeal to bring about this happy scenario." —Sam Sacks, The Wall Street Journal
 
"Reality Hunger, by David Shields, might be the most intense, thought-accelerating book of the last 10 years."—Chuck Klosterman (on Twitter)
 
"Entertaining, insightful, and impressively broad. . . . brings to mind an amped-up Nicholson Baker. . . . Most important, it's a guidebook for where literary writing could go in the future. . . . You might not agree with Shields's broadside or his hardheaded conclusions, but it's difficult not to fall under the sway of this voracious and elegantly structured book. Reality Hunger is ultimately an invigorating shakedown of the literary status quo: recommended for readers, essential for writers."
—Scott Indrisek, Time Out New York
 
"The subtitle of David Shields's Reality Hunger categorizes it as 'a manifesto,' which is a little like calling a nuclear bomb 'a weapon.'"  —Don McLesse, Kirkus Reviews
 
"Thrilling to read, even if you disagree with much of it." —Zadie Smith, The Guardian
 
"I find Shields's book absorbing, even inspiring. The ideas he raises are so important, his ideas are so compelling, that I raved about this book the whole time I was reading it and have regularly quoted it to friends in the weeks since." —Jami Attenberg, Bookforum
 
"A collection of wisdoms and aphorisms, some borrowed/stolen/appropriated from others, some written by Shields himself—which layer one upon the other to shimmer with an insistence on a literature that reflects modern's life's many complexities and contradictions." —Debra Gwartney, Portland Oregonian
 
"This is the book our sick-at-heart moment needs—like a sock in the jaw or an electric jolt in the solar plexus—to wake it up." —Wayne Koestenbaum
 
"It's already become required reading in university spheres, galleys passed from one student to the next like an illicit hit of crack cocaine. I came away from Reality Hunger excited about writing my own fiction, and impatient about books that don't offer these same thrills." —Sarah Weinman, Flavorwire
 
"David Shields has put a bullet in the brain of our ridiculously oversimplified compulsion to think of everything as a narrative." —Paul Constant, The Stranger 
 
"One of the most provocative books I've ever read. . . . I think it's destined to become a classic." —Charles D'Ambrosio
 
 
 
 
Knopf Publishing Group, 9780307273536, 219pp.
Publication Date: February 23, 2010
About the Author
David Shields is the author of nine previous books, including Black Planet, a finalist for the National Book Critics Circle Award, and Remote, winner of the PEN/Revson Award. His work has been translated into a dozen languages.
Book Videos
or
Not Currently Available for Direct Purchase