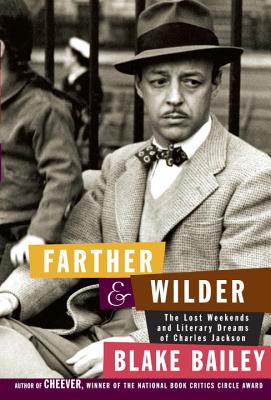 Farther and Wilder (Hardcover)
The Lost Weekends and Literary Dreams of Charles Jackson
Knopf Publishing Group, 9780307273581, 494pp.
Publication Date: March 19, 2013
Other Editions of This Title:
Paperback (12/3/2013)
* Individual store prices may vary.
Description
From the prizewinning biographer of Richard Yates and John Cheever, here is the fascinating biography of Charles Jackson, the author of The Lost Weekend—a writer whose life and work encapsulated what it meant to be an addict and a closeted gay man in mid-century America, and what one had to do with the other.

Charles Jackson's novel The Lost Weekend—the story of five disastrous days in the life of alcoholic Don Birnam—was published in 1944 to triumphant success. Within five years it had sold nearly half a million copies in various editions, and was added to the prestigious Modern Library. The actor Ray Milland, who would win an Oscar for his portrayal of Birnam, was coached in the ways of drunkenness by the novel's author—a balding, impeccably groomed middle-aged man who had been sober since 1936 and had no intention of going down in history as the author of a thinly veiled autobiography about a crypto-homosexual drunk. But The Lost Weekend was all but entirely based on Jackson's own experiences, and Jackson's valiant struggles fill these pages. He and his handsome gay brother, Fred ("Boom"), grew up in the scandal-plagued village of Newark, New York, and later lived in Europe as TB patients, consorting with aristocratic café society. Jackson went on to work in radio and Hollywood, was published widely, lived in the Hotel Chelsea in New York City, and knew everyone from Judy Garland and Billy Wilder to Thomas Mann and Mary McCarthy. A doting family man with two daughters, Jackson was often industrious and sober; he even became a celebrated spokesman for Alcoholics Anonymous. Yet he ultimately found it nearly impossible to write without the stimulus of pills or alcohol and felt his devotion to his work was worth the price. Rich with incident and character, Farther & Wilder is the moving story of an artist whose commitment to bringing forbidden subjects into the popular discourse was far ahead of his time.
About the Author
Blake Bailey is the author of "A Tragic Honesty: The Life and Work of Richard Yates," a finalist for the National Book Critics Circle Award, and "Cheever: A Life," winner of the National Book Critics Circle Award and the Francis Parkman Prize, and a finalist for the Pulitzer and James Tait Black Memorial Prizes. He edited a two-volume edition of Cheever's work for the Library of America, and in 2010 received an Award in Literature from the American Academy of Arts and Letters. He lives in Virginia with his wife and daughter.
Praise For Farther and Wilder: The Lost Weekends and Literary Dreams of Charles Jackson…
Praise for Farther and Wilder: The Lost Weekends and Literary Dreams of Charles Jackson
By Blake Bailey

"A great American biography ... brilliant and gripping ... Mr. Bailey has made an author come alive in a way that is truly novelistic, has made him submit to becoming a character in a story. . . .a Greek myth crossed with a Sherwood Anderson tale. . . . That Blake Bailey should come along 45 years later and grant [fame to Charles Jackson] is a kind of miracle, one that we can all be grateful for."--Adam Kirsch, Wall Street Journal"

"Arresting ... Bailey is the literary biographer of our generation.... [his] biography shows us the artfulness of Jackson's life and work: the self-consciouness, the refusal to take anything for granted. ... The publication of this new biography and the reprinting of the books themselves ignite the excitement once again, and Bailey has given us a writer who can, on every page, throw us out of our chairs."--Seth Lerer, San Francisco Chronicle"

"Scrupulous and compassionate … As a portrait of the artist as a ruined man, Bailey's account is a chilling addition to the museum of literary failure, to be mounted somewhere in the long hall between 'The Crack-Up' and 'The Shining.'"
--Donna Rifkind, New York Times Book Review
 
"The novelist Charles Jackson may not be as well known as subjects of Blake Bailey's previous biographies … but he is no less fascinating. In Farther & Wilder … Mr. Bailey portrays his life with the same dogged attention to detail, literary panache and brilliant storytelling that he brought to those other subjects … Mr. Bailey's triumph is in fleshing out both Jackson's literary legacy and the man himself."--Sarah Douglas, New York Observer
 
"A fascinating anatomy of failure."--Carl Rollyson, The Star Tribune
 
"A once-celebrated American novelist wrestles with the Big Three writerly adversaries—substance abuse, repressed homosexuality, and social conformity—in this rich, probing biography. National Book Critics Circle Award–winner Bailey (Cheever: A Life) explores the interplay between Jackson's lurid fiction—his autobiographical 1945 best seller The Lost Weekend became a classic of alcoholic lit and was adapted into a hit movie of the same name by Billy Wilder; later works depicted child murder, nymphomania, and then-scandalous homosexual yearnings—and his prodigal life, a whirlwind of booze-and-pills benders, overdoses, DUIs, hospitalizations, and perpetual debt that caused anguish for his wife, friends, and publishers. The author shrewdly analyzes Jackson's sometimes crippling, sometimes fertile contradictions: his narcissistic swerving between grandiosity and self-loathing; his ambition to be a respectable paterfamilias while pursuing furtive gay trysts; his love-hate relationship with the small-town normalcy of his boyhood, which he mined for seamy material; his dependence on drugs that helped him overcome epic writer's block but warped his prose. Bailey offers clear-eyed, tart-tongued interpretations of Jackson's uneven oeuvre, setting them in a thorough, well-paced, entertaining narrative that features movie stars and intellectuals, evocative scenes of mid-20th-century literary life, and relationships that unfold with novelistic complexity. The result is another compelling portrait of a conflicted writer whose genius emerges in dubious battle with his demons."––Publishers Weekly

"Author of acclaimed biographies of John Cheever and Richard Yates, Bailey makes a rather surprising case for the resurrection of this deeply prescient and problematic novelist, who broke open taboos about alcoholics and homosexuals well before it was cool and championed F. Scott Fitzgerald when he was in the process of being remaindered. . . Bailey urges a revisiting of the work of this fascinating novelist of keen psychological depth. Eloquent, poignant portrait of the artist as outsider and misfit."––Kirkus Reviews (starred review)

". . . Suavely written, magnetically readable."--Booklist


Book Videos
or
Not Currently Available for Direct Purchase