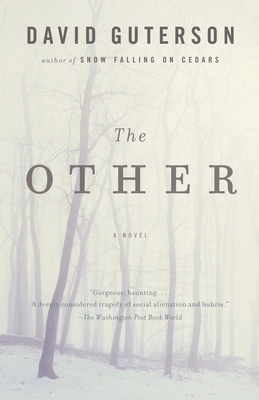 The Other (Paperback)
Vintage Books USA, 9780307274816, 255pp.
Publication Date: June 2, 2009
July 2008 Indie Next List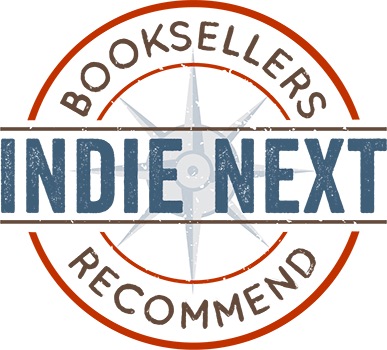 "In The Other, David Guterson gives us an accurate and, now, haunting picture of a Seattle 30 years ago. Neil Countryman sees that life must evolve and grow into self-sufficiency even as he is inexorably tied to the wilderness he explored while coming of age. John William Barry chooses to reject his troubled, privileged life to find his way in the wilderness that has always been his home. Neither can foresee their ultimate futures."
— Sarah Bass, Burlingham Books, Perry, NY
View the List
Description
From the author of the bestselling Snow Falling on Cedars, a coming-of-age novel that presents two powerfully different visions of what it means to live a good life and the compromises that come with fulfillment.
John William Barry and Neil Countryman shared a love of the outdoors, trekking often into Washington's remote backcountry where they had to rely on their wits and each other to survive. Soon after graduating from college, Neil sets out on a path that will lead him toward a life as a devoted schoolteacher and family man. But John William makes a radically different choice, dropping out of college and moving deep into the woods. When he enlists Neil to help him disappear completely, Neil finds himself drawn into a web of agonizing responsibility, deceit, and tragedy one that will finally break open with a wholly unexpected, life-altering revelation.
About the Author
David Guterson is the author of five novels: Snow Falling on Cedars, which won the PEN/Faulkner and the American Booksellers Association Book of the Year Award;East of the Mountains; Our Lady of the Forest, aNew York TimesNotable Book and aLos Angeles TimesandSeattle Post- IntelligencerBest Book of the Year;The Other;andEd King.He is also the author of a previous story collection, The Country Ahead of Us, the Country Behind;a poetry collection, Songs for a Summons;and two works of nonfiction, Family Matters: Why Homeschooling Makes SenseandDescent: A Memoir of Madness.The recipient of a Guggenheim Fellowship, he lives in Washington State."
Praise For The Other…
"Gorgeous, haunting.... A deeply considered tragedy of social alienation and hubris."—The Washington Post Book World"A finely observed rumination on the necessary imperfection of life. . . . [Guterson's] books keep getting better." —The New York Times Book Review"Elegiac. . . . An exploration of how one should live in a flawed world, the choices we make and the values they reflect." —San Francisco Chronicle"Mesmerizing, even heart-breaking. . . . Guterson explores the fissures in our divided souls. . . . Vivid." —The Seattle Times"Excellent.... As humane as it is compelling."—The Philadelphia Inquirer"Guterson's descriptions of light and shadow, of fir canopies and forest floors, are as strong as they were in Snow Falling on Cedars, dotting the pages like beautifully muted piano chords.... At its core The Other is a book about the roads we choose, and the subsequent regrets and what-ifs and I-wonders." —The Oregonian"Guterson creates a visceral world.... The Other is ripe with color and sound and texture."—Chicago Sun-Times"EW Pick. In 1972, two Seattle teens, working-class Irish boy Neil Countryman and tortured trust funder John William Barry, bond over their love of adventuring in the Northwest's vast wilderness. Countryman, who continues on to college, marriage, and a career teaching high school English, narrates the story of helping Barry drop out of society to live a hermit's life 'without hypocrisy' in a remote, self-excavated cave. [This plot] is the perfect scaffolding to support Guterson's absorbing meditation on what it means to grow up, sell out, and lead an honest life. A."—Karen Karbo, Entertainment Weekly"The Other features an unclaimed $440 million inheritance and a mummified corpse found in Washington's Olympic Mountains, but it's no murder mystery. Guterson uses these circumstances as the backdrop to [a] tale of two Seattle friends [who] forge an unlikely friendship . . . With prose that's as careful and quiet as a mountain lion, The Other asks, and helps answer, two of life's most perplexing questions: How do we live in an imperfect world, and what are our obligations to those we love?"—Steven Rinella, Outside"[Guterson's] most brilliant and provocative novel yet. . . . He presents the reader with the quintessential questions of value and choice that shape life. It contains all the elements of youth, idealism and compromise, by paralleling two very different lives."—Bill Duncan, Roseburg (Oregon) News-Review"PEN/Faulkner Award winner Guterson constructs a sensationalistic story that in other hands might have emerged as a page-turning potboiler. Here, events unfold in exquisitely refined prose, which creates a plot as believable as any quotidian workday, while evoking an unforgettable sense of place in its depiction of Washington State's wilderness. . . . Bonded by a mutual love of the outdoors, working-class Neil [Countryman] and wealthy John William Barry become lifelong friends despite cultural disparities. The bond holds as their adult paths diverge, Neil choosing to teach while John William retreats to a hermit's life in remote woodlands. When Neil agrees to help his friend disappear, haunting questions of values, responsibility, and choice leave Neil–and the readers of this provocative fiction–to ponder the proper definition of a good life. Recommended."—Starr E. Smith, Library Journal"Life presents crucial choices, although often they are not recognized as crucial at the time. Pick this course, choose that person, follow this instinct, postpone that decision–all can have profound effects on a life. This theme is the underpinning of David Guterson's strong and evocative new novel, The Other [which] uses the unlikely friendship of two Seattle men to examine such important concerns as the formation of character, the influence of family, the choice of vocation, the allure of alternatives. . . . The Other has its roots in Robert Frost's much-quoted poem, 'The Road Not Taken.' Guterson underscores that link by having the novel's narrator–English teacher Neil Countryman–do an annual recitation of the Frost poem at high school graduation. . . . What shines brightly throughout The Other is Guterson's resonant ability to evoke the delights and contradictions of Seattle and its surrounding territory. This novel is a native son's love song to the Seattle in the later stages of the 20th century. A greasy burger at Dick's is celebrated, as is the grandeur of the North Cascades. In Countryman and [his best friend, John William] Barry, Guterson captures many conflicting courses in Seattle life (and perhaps in his own character): city vs. country, civilization vs. wilderness, comfort vs. hardship, constancy vs. change, attachment vs. disengagement. . . . This fine, searching novel represents the mature talent of one of the Northwest's leading writers."—John Marshall, Seattle Post-Intelligencer"[A] must-read . . . The story of two boys, John William and Neil . . . John William pulls a Holden Caulfield and decides to turn his back on all his privilege and move deep into the woods. Neil is then left to erase John William's trail–and see how long he can keep John William's new life as a hermit secret."—Marisa LaScala, Westchester Magazine"The provocative tale of two childhood buddies who take very different paths as adults. . . . John William Barry decides to drop out of society entirely [and] enlists Neil [Countryman]'s help to disappear, which turns out to be a complicated and tragic endeavor."—New York Post"Involving . . . Guterson follows two friends as their lives take different courses. Neil Countryman and John William Barry first meet at a high-school track event in the 1970s. . . . While Neil embarks on a traditional life, pursuing a college degree and meeting a girl while backpacking in Europe, John William–a wealthy, misunderstood only child–retreats from society, excavating a cave in a remote part of the Hoh Valley where he hopes to live free from the pressures of modern civilization. Once Neil realizes his friend is serious about his Thoreauesque endeavor, he sets about helping John William and becoming an accomplice in his plans to conceal his whereabouts from his family. As the story shifts between past and present, Neil tries desperately to understand the friend he feels responsibility and kinship for even as their lives drastically diverge. . . . Guterson's novel of friendship and ideas is a moving meditation on choices, sacrifices, and compromises made in search of an authentic life."—Kristine Huntley, Booklist"In this philosophically provocative and psychologically astute novel, two boyhood friends take very different paths: The richer one renounces all earthly entanglements, while the poorer one becomes unexpectedly wealthy beyond imagination. Once again, Guterson writes of the natural splendor of his native Pacific Northwest, though the ambiguity of isolating oneself in nature, rejecting family and society in the process, provides a tension that powers the narrative momentum to the final pages. There are parallels between this story and Jon Krakauer's nonfiction book Into the Wild, as the novel relates the life and death of John William Barry . . . who forsakes his elite destiny to achieve posthumous notoriety as 'the hermit of the Hoh.' What distinguishes Guterson's novel is the narrative voice of Neil Countryman, who has been Barry's best and maybe only friend . . . When a novelist scores as popular a breakthrough as Guterson did with Snow Falling on Cedars, a long shadow is cast over subsequent efforts. Here, he succeeds in outdistancing that shadow."—Kirkus Reviews (starred)
Advertisement