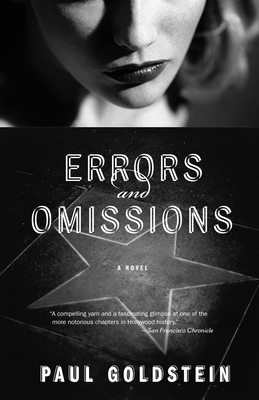 Errors and Omissions (Paperback)
Anchor Books, 9780307274892, 320pp.
Publication Date: July 10, 2007
Description
An astonishing novel of legal and moral suspense from Paul Goldstein, a stunning new legal literary talent.Meet Michael Seeley, a take-no-prisoners intellectual property litigator–and a man on the brink of personal and career collapse. So when United Pictures virtually demands that he fly out to Hollywood to confirm legally that they own the rights to their corporate cash-cow franchise of Spykiller films, he has little choice but to comply. What he discovers in these gilded precincts will plunge him headfirst into the tangled politics of the blacklisting era and then into the even darker world of Nazi-occupied Poland. Drawing on historical fact and legal scholarship, this is a breathless tale of deception and intrigue.
About the Author
Paul Goldstein is the Lillick Professor of Law at Stanford Law School and is widely recognized as one of the country's leading authorities on intellectual property law. A graduate of Brandeis University and Columbia Law School, he is Of Counsel to the law firm of Morrison & Foerster LLP and has regularly been included in "Best Lawyers in America." He has testified before congressional committees dealing with intellectual property issues and has been an invited expert at international government meetings on copyright issues. A native of New York, he now lives in Menlo Park, California, with his wife and daughter.
Praise For Errors and Omissions…
"A compelling yarn and a fascinating glimpse at one of the more notorious chapters in Hollywood history."—The San Francisco Chronicle "It's difficult to convey the mounting excitement with which I turned the pages. . . . the writing [is] masterful, not one wasted word. . . . A terrific read." —Sue Grafton"Memorable [and] pleasurable. . . . Goldstein displays the keen eye and sure hand of a gifted writer."—The Wall Street Journal"Compares favorably with the best legal thrillers of the likes of John Grisham. . . . [Errors and Omissions] qualifies Goldstein for a high position among recent crime fiction."—Political Affairs
Advertisement