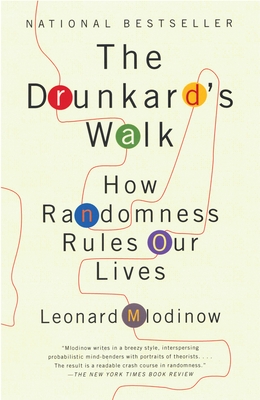 The Drunkard's Walk
How Randomness Rules Our Lives
Paperback

* Individual store prices may vary.
Other Editions of This Title:
Digital Audiobook (6/10/2008)
Compact Disc (6/11/2008)
MP3 CD (6/11/2008)
Compact Disc (6/11/2008)
Paperback (3/1/2009)
Hardcover (5/13/2008)
Description
With the born storyteller's command of narrative and imaginative approach, Leonard Mlodinow vividly demonstrates how our lives are profoundly informed by chance and randomness and how everything from wine ratings and corporate success to school grades and political polls are less reliable than we believe.

By showing us the true nature of chance and revealing the psychological illusions that cause us to misjudge the world around us, Mlodinow gives us the tools we need to make more informed decisions. From the classroom to the courtroom and from financial markets to supermarkets, Mlodinow's intriguing and illuminating look at how randomness, chance, and probability affect our daily lives will intrigue, awe, and inspire.


Praise For The Drunkard's Walk: How Randomness Rules Our Lives…
"Mlodinow writes in a breezy style, interspersing probabilistic mind-benders with portraits of theorists.... The result is a readable crash course in randomness."
—The New York Times Book Review
"A wonderfully readable guide to how the mathematical laws of randomness affect our lives."
—Stephen Hawking, author of A Brief History of Time
"[Mlodinow] thinks in equations but explains in anecdote, simile, and occasional bursts of neon. . . . The results are mind-bending."
—Fortune
"Even if you begin The Drunkard's Walk as a skeptic, by the time you reach the final pages, you will gain an understanding-if not acceptance-of the intuitively improbable ways that probability biases the outcomes of life's uncertainties."
—Barron's
"Delightfully entertaining."
—Scientific American
"A magnificent exploration of the role that chance plays in our lives. The probability is high that you will be entertained and enlightened by this intelligent charmer."
—Daniel Gilbert, author of Stumbling on Happiness
"Mlodinow is the perfect guy to reveal the ways unrelated elements can relate and connect."
—The Miami Herald
"A primer on the science of probability."
—The Washington Post Book World
"Challenges our intuitions about probability and explores how, by understanding randomness, we can better grasp our world."
—Seed Magazine
"Mlodinow has an intimate perspective on randomness."
—The Austin Chronicle
Vintage, 9780307275172, 272pp.
Publication Date: May 5, 2009
About the Author
Leonard Mlodinow received his doctorate in physics from the University of California, Berkeley, was an Alexander von Humboldt fellow at the Max Planck Institute, and now teaches about randomness to future scientists at Caltech. Along the way he also wrote for the television series MacGyver and Star Trek: The Next Generation. His previous books include Euclid's Window: The Story of Geometry from Parallel Lines to Hyperspace, Feynman's Rainbow: A Search for Beauty in Physics and in Life, and, with Stephen Hawking, A Briefer History of Time. He lives in South Pasadena, California.