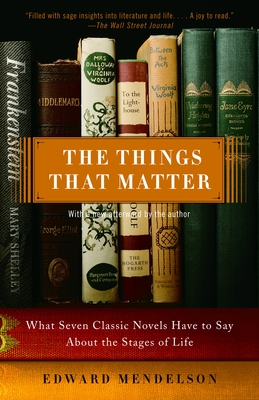 The Things That Matter: What Seven Classic Novels Have to Say about the Stages of Life (Paperback)
What Seven Classic Novels Have to Say about the Stages of Life
Anchor Books, 9780307275226, 264pp.
Publication Date: November 6, 2007
Description
She felt rather inclined just for a moment to stand still after all that chatter, and pick out one particular thing; the thing that mattered . . .
--Virginia Woolf, To The Lighthouse
An illuminating exploration of how seven of the greatest English novels of the nineteenth and twentieth centuries--Frankenstein, Wuthering Heights, Jane Eyre, Middlemarch, Mrs. Dalloway, To the Lighthouse, and Between the Acts--portray the essential experiences of life.
Edward Mendelson--a professor of English at Columbia University--illustrates how each novel is a living portrait of the human condition while expressing its author's complex individuality and intentions and emerging from the author's life and times. He explores
Frankenstein
as a searing representation of child neglect and abandonment and
Mrs. Dalloway
as a portrait of an ideal but almost impossible adult love, and leads us to a fresh and fascinating new understanding of each of the seven novels, reminding us--in the most captivating way--why they matter.
About the Author
Edward Mendelson is a professor of English Literature at Columbia University. He is the literary executor of the Estate of W.H. Auden and is the author of the biographies of Early Auden and Later Auden. He has written essays on and prepared editions of George Meredith, Thomas Hardy, H.G. Wells, Arnold Bennett, Virginia Woolf, Samuel Beckett, and Thomas Pynchon, among others. He lives in New York City.
Praise For The Things That Matter: What Seven Classic Novels Have to Say about the Stages of Life…
"Filled with sage insights into literature and life. . . . A joy to read."—The Wall Street Journal"Dazzling. . . . The highest achievement of literary criticism is to make the reader hunger to go back to the book and reconfirm what has been opened up."—The New York Times Book Review"Masterful. . . . Filled with surprises and delights. Fluid, wide and deep, The Things That Matter takes a rightful place next to the literature we love."—The Washington Times
Advertisement