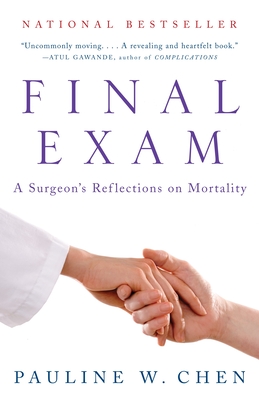 Final Exam (Paperback)
A Surgeon's Reflections on Mortality
Vintage, 9780307275370, 288pp.
Publication Date: January 8, 2008
Other Editions of This Title:
Hardcover (1/9/2007)
* Individual store prices may vary.
Description
A brilliant transplant surgeon brings compassion and narrative drama to the fearful reality that every doctor must face: the inevitability of mortality.When Pauline Chen began medical school, she dreamed of saving lives. What she could not predict was how much death would be a part of her work. Almost immediately, she found herself wrestling with medicine's most profound paradox–that a profession premised on caring for the ill also systematically depersonalizes dying. Final Exam follows Chen over the course of her education and practice as she struggles to reconcile the lessons of her training with her innate sense of empathy and humanity. A superb addition to the best medical literature of our time.
About the Author
Pauline W. Chen attended Harvard University and the Feinberg School of Medicine at Northwestern University and completed her surgical training at Yale University, the National Cancer Institute (National Institutes of Health), and UCLA, where she was most recently a member of the faculty. In 1999, she was named the UCLA Outstanding Physician of the Year. Dr. Chen's first nationally published piece, "Dead Enough? The Paradox of Brain Death," appeared in the fall 2005 issue of The Virginia Quarterly Review and was a finalist for a 2006 National Magazine Award. She is also the 2005 cowinner of the Staige D. Blackford Prize for Nonfiction and was a finalist for the 2002 James Kirkwood Prize in Creative Writing. She lives near Boston with her husband and children.
Praise For Final Exam: A Surgeon's Reflections on Mortality…
"Incandescent . . . The real power of her book lies in her stories. Balanced and perfect, each one seeks out the reader's heart like a guided missile, and explodes."—The New York Times"Final Exam is a revealing and heartfelt book. Pauline Chen takes us where few do. . . Her tales are also uncommonly moving, most especially when contemplating death and our difficulties as doctors and patients in coming to grips with it."—Atul Gawande, author of Complications: A Surgeon's Notes on an Imperfect Science"Chen has a clear and unwavering eye for exposing the reality behind the mythology of medical training. . . . We would all do well to listen to what she has to say."—San Francisco Chronicle"In graceful, lucid prose, [Chen] narrates key events through which medical students and trainees first encounter death and, ultimately, depersonalize it. . . . Fresh and honest."—Los Angeles Times Book Review