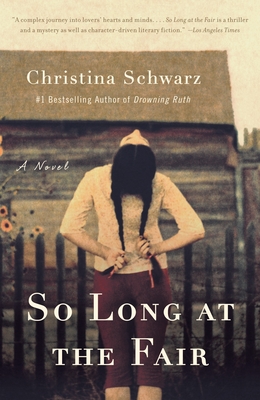 So Long at the Fair (Paperback)
Anchor Books, 9780307275493, 260pp.
Publication Date: July 14, 2009
* Individual store prices may vary.
or
Not Currently Available for Direct Purchase
Description
Is it possible to be in love with two women at the same time? This is a question Jon has been asking himself frequently these days. He's loved his wife Ginny since the days when a chance encounter in the halls of their high school would leave him unable to speak. But recently Jon has found himself bewitched by Freddi, his colleague at the ad agency, where late-night brainstorming sessions devolve into giggles and sexual attraction. As Jon's guilt becomes all-consuming and Ginny inches closer discovery, a secret kept for thirty years threatens any hope of salvation. Weaving together past and present in a small Midwestern town, Schwarz beautifully conjures the emotional labyrinth of a marriage on the brink of collapse, and a history of love and revenge.
About the Author
Christina Schwarz is the author of the critically acclaimed "All Is Vanity" and "Drowning Ruth," a #1 bestseller in both hardcover and paperback, which was selected for Oprah's Book Club and optioned by Wes Craven for Miramax. She lives in New Hampshire.
Praise For So Long at the Fair…
"A complex journey into lovers' hearts and minds. . . . So Long at the Fair is a thriller and a mystery as well as character-driven literary fiction." —Los Angeles Times"Christina Schwarz's multilayered storytelling makes this novel spellbinding." —People"Schwarz has a gift for telling a suspenseful tale. Both the fate of the marriage in peril and the unfolding of the decades-old drama drive the reader forward. . . . Satisfying." —Milwaukee Journal-Sentinel"The book's pacing races. . . . When you read the last page, you will want to start over, to see the clues you missed and appreciate Schwarz's delicate weaving of family histories that leave legacies of guilt and revenge." —USA Today
Advertisement