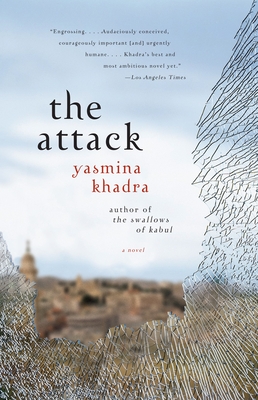 The Attack (Paperback)
Anchor Books, 9780307275707, 272pp.
Publication Date: April 25, 2007
Description
From the bestselling author of The Swallows of Kabul comes this timely and haunting novel that powerfully illuminates the devastating human costs of terrorism.Dr. Amin Jaafari is an Arab-Israeli surgeon at a hospital in Tel Aviv. As an admired and respected member of his community, he has carved a space for himself and his wife, Sihem, at the crossroads of two troubled societies. Jaafari's world is abruptly shattered when Sihem is killed in a suicide bombing.As evidence mounts that Sihem could have been responsible for the catastrophic bombing, Jaafari begins a tortured search for answers. Faced with the ultimate betrayal, he must find a way to reconcile his cherished memories of his wife with the growing realization that she may have had another life, one that was entirely removed from the comfortable, modern existence that they shared.
About the Author
YASMINA KHADRA is the pen name of the former Algerian army officer Mohammed Moulessehoul. He adopted his wife's name as a pseudonym to avoid military censorship. He is the author of more than 20 books, at least six of which have been published in English, among them The Swallows of Kabul and The Attack, both shortlisted for the IMPAC literary award. Khadra's work has been published in 45 countries. He has twice been honored by the Academie francaise, winning both the Medaille de vermeil (2001) and Grand Prix de litterature (2012). His latest novel is The Angels Die (2016). He lives in France. The New York Times describes Khadra as, "a writer who can understand man wherever he is."
Praise For The Attack…
"Engrossing…audaciously conceived, courageously important [and] urgently humane, The Attack is Khadra's best and most ambitious novel yet." —The Los Angeles Time"A genuine work of art." —The Philadelphia Inquirer"Gripping, dynamic. . . .Both a fierce rendering of geopolitical tensions and a plea for peace." —Tne New York Times "A powerfully dark vision . . . of the [Arab-Israeli] conflict." —The New Yorker"An engaging glimpse into the kinds of stories we never hear on CNN." —TimeOut Chicago
Advertisement