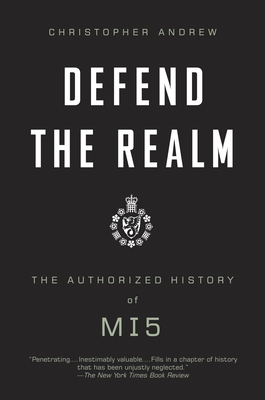 Defend the Realm: The Authorized History of MI5 (Paperback)
The Authorized History of MI5
Vintage Books USA, 9780307275813, 1044pp.
Publication Date: December 7, 2010
Description
For over 100 years, the agents of MI5 have defended Britain against enemy subversion. Their work has remained shrouded in secrecy until now. This first-ever authorized account reveals the British Security Service as never before: its inner workings, its clandestine operations, its failures and its triumphs.
About the Author
Christopher Andrew is Britain s leading historian of intelligence, professor of modern and contemporary history and chair of the faculty of history at Cambridge University. He is also chair of the British Intelligence Study Group, coeditor of Intelligence and National Security, former visiting professor at Harvard, Toronto, and the Australian National University, and a regular presenter of BBC Radio and TV documentaries. His thirteen previous books include The Mitrokhin Archive, volumes 1 and 2, and a number of groundbreaking studies on the use and abuse of secret intelligence in modern history."
Praise For Defend the Realm: The Authorized History of MI5…
"Penetrating. . . . Inestimably valuable. . . . Fills in a chapter of history that has been unjustly neglected."
—The New York Times Book Review

"Fascinating and instructive. . . . As complete and thorough as such a history may be and as engrossing as any spy novel."
—Los Angeles Times

"Unprecedented. . . . Weighty, measured and compelling. . . . With this book, the author has done a formidably good job for both the service and the public interest."
—Max Hastings, The Sunday Times (London)

"As gripping as any thriller. . . . Throws new light on an important area of the running of the country, analysing the changing threats to national security over the 100 years and discussing the appropriateness or otherwise of the service's response. . . . It will be enthusiastically scrutinised by historians, intelligence buffs and conspiracy theorists."
—Stella Rimington, Financial Times

"Tantalizing. . . . Meticulous and extensive. . . . This book is unlikely to be surpassed for another 100 years, and until then will be the necessary starting point for anyone who wants to know what, exactly, MI5 is."
—The Daily Telegraph (London)

"A tour de force: a dazzlingly detailed account. . . . Andrew [is] remarkably candid."
—Tulsa World

"Andrew has demonstrated why he is considered by most of his peers to be the world's leading intelligence scholar. His mastery of sources and ability to write so clearly is second to none."
—The Raleigh News & Observer

"Magisterial, authoritative, balanced, readable. . . . MI5 has been well-served by this history and so have future historians, Service staff and the public in general."
—The Sunday Telegraph (London)

"[This] book covers everything. . . . It is a striking experiment in openness."
—Economist

"Absolutely fascinating. . . . A sweeping and highly readable account of a century of British intelligence."
—The Washington Times

"Clearly written, brilliantly organised and extremely readable, not least because of something [Andrew] shares with many of MI5's staff over the past hundred years—a sense of humour."
—The Times (London)

"There are plenty of fresh details about celebrated events, behind-the-scenes tidbits about successes and foibles, and dish about infamous people. . . . It's crack for history and spy agency addicts."
—Gerald Posner, The Daily Beast

"A ripping read and just the kind of work one would hope for from a well-qualified academic who has been given the run of MI5's treasure-trove of files."
—The Guardian (London)

"Definitive and fascinating. Definitive because, after decades of ill-informed or partial accounts this book fully defines and describes its subject; no future writer can ignore it. Fascinating because the fluent clarity of Andrew's narrative, his eye for colourful individual detail and the sheer interest of his subjects. . . . This book is essential reading for anyone with even the slightest interest in intelligence in the modern period."
—The Spectator

"Andrew is an entertaining and authoritative guide through the labyrinth of secret files, with an infectious fascination for the game of counter-espionage. . . . An important part of Andrew's achievement is to narrate with clarity an incredibly complex story in which bizarre and improbable reality often outruns the most rococo fabrications of the spy novelist."
—The Observer (London)

"Brimming with some wonderful details. . . . A valuable and important contribution to our understanding of the 20th century."
—The Independent (London)
Advertisement