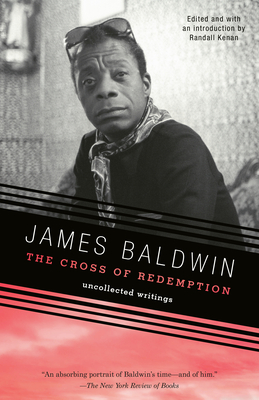 The Cross of Redemption
Uncollected Writings (Vintage International)
Paperback

* Individual store prices may vary.
Description
"Baldwin on race is Baldwin on the white American psyche.... The Cross of Redemption becomes an absorbing portrait of Baldwin's time—and of him."  —New York Review of Books

A revelation by an American literary master: a gathering of essays, articles, polemics, reviews, and interviews that have never before appeared in book form.
 
James Baldwin was one of the most brilliant and provocative literary figures of the past century, renowned for his fierce engagement with issues haunting our common history. In The Cross of Redemption we have Baldwin discoursing on, among other subjects, the possibility of an African-American president and what it might mean; the hypocrisy of American religious fundamentalism; the black church in America; the trials and tribulations of black nationalism; anti-Semitism; the blues and boxing; Russian literary masters; and the role of the writer in our society.
 
Prophetic and bracing, The Cross of Redemption is a welcome and important addition to the works of a cosmopolitan and canonical American writer who still has much to teach us about race, democracy, and personal and national identity. As Michael Ondaatje has remarked, "If van Gogh was our nineteenth-century artist-saint, Baldwin [was] our twentieth-century one."
Praise For The Cross of Redemption: Uncollected Writings (Vintage International)…

"…anyone interested in engaging in candid albeit stakes-changing debate, anyone who had an investment in equity, humanity, and it's future…gained tremendously from the variegated prism through which [Baldwin]  viewed and translated the world. . . . These pieces, previously uncollected, not only give us a sense of the physical distances he traveled to 'bear witness' but also the intellectual latitude he stretched." —Los Angeles Times
 
 
"Baldwin on race is Baldwin on the white American psyche. . . . The Cross of Redemption becomes an absorbing portrait of Baldwin's time—and of him."  —New York Review of Books

"At a time when serious people claim we live in a 'post-racial' society, the reappearance of Baldwin's writing—insistent, accusatory, outraged—feels like a terrible family secret coming to light in an Ibsen play, or Banquo's ghost showing up to spoil the party. . . . It's not easy to do what Baldwin did—not even for Baldwin. In fact, this volume unwittingly shows just how brutal the struggle could be." —Newsweek
 
"…This book, which includes early fiction sketches that grew into Go Tell It On The Mountain and Giovanni's Room was vibrant to the last, and his final products were a fitting, natural end to the long trajectory of his joyful misanthropy. . . . Baldwin's essays are among the best in English since Orwell's, and are freighted with the same weary skepticism, the same register of encomium and warning." —Bookslut

"The Cross of Redemption amounts to an album of 'studio tapes' on which we hear songs we know in ways we've never heard before." —Quarterly Conversation

"The concept of racial identity as a conscious choice had never occurred to me before I encountered it in Baldwin's work. . . . Baldwin exposes the seamlessness of America's racial past, present, and future." —Timothy Ledwith, Open Letters Monthly

"These assorted essays, letters, reviews and profiles act as a reminder of the great power language has when used in the service of a talent like Baldwin's. . . . Kenan has done us all a great service." —Austinist

"This momentous collection of essays, book reviews, speeches, letters and journalism—and one short story—is a fierce and felicitous reminder of how towering a literary figure James Baldwin was."—Outlook Columbus

"There are many gems here: Baldwin's impassioned essays on music, his talks on anti-Semitism, and article about a boxing match. . . . These days, it can be difficult to find something as lasting as a Baldwin essay—as the kind of writing that gets under the skin and makes it itch."—The Harvard Crimson
  
"Read this book to gain insight into James Baldwin, the World, and more importantly; Yourself!" —WAGTi Radio
 
"These previously published writings, gleaned for the most part from a variety of periodical sources, have a more powerful resonance when read together in book form. A useful addition for African American scholars."—Library Journal

"…Offers a searing introduction to readers unfamiliar with his work and a welcome reminder to his fans of his sorcery with the English language. . . . Even at his most acerbic and skeptical, Baldwin clings to the ideas of hope and reconciliation in America." —The Seattle Times

"The Cross of Redemption: Uncollected Writings, James Baldwin's passionate hope for a better America, a United States that he can believe in and that believes in a brilliant black person, comes through in each piece of this disparate collection." —South Florida Times
 
"…Brings the lights of day to many excellent pieces excluded from the Library of America's 'Collected Essays of James Baldwin'. . . . essential." —SF Gate

"…While Baldwin was committed to pulling back the curtain on the forces he felt were manipulating America's problems, he was also very serious about closing the gap between those in power and the disenfranchised. This new collection shows that he was willing to take on black, white, rich, or poor to see that happen." —Christian Science Monitor
 
"The opportunity to further bask in Baldwin's readably precise prose is a welcome gift. . . The Cross of Redemption shows why Baldwin should never be allowed to go out of fashion." —Austin Chronicle

"Baldwin is biting and insightful in his critique of religious fundamentalism, the prospects of a black president, the hypocrisy of the American art and cultural scene, the challenges of black nationalism, and the complexities of race and identity. In the long passages of his essays and the short, acerbic comments in his interviews, Baldwin shows a masterful sweep of language and ideas and feelings that continues to resonate."  —Booklist
 
"Kenan's introduction and headnotes are models of critical good sense; his awareness of both 'Baldwin's achievements that beggar the imagination' and of the 'grab bag' quality of some pieces makes him the perfect shepherd for those 'lost' works."—Publisher's Weekly

"What you find here is a book that superbly reopens an unfinished life. In an age that people claim is 'post-racial,' the Baldwin's-eye-view still seems to answer more questions than most other living writers. . . .[an] invaluable book of uncollected writings."—Buffalo News
 
"His writing was diamond: sparkles, flashes and hard. The beginning of the collection, Baldwin states the purpose of his writing was to tell the truth. He succeeds. The Cross of Redemption is a remarkable collection."—aalbc.com
 
"Baldwin's Cross burns with rage, smoothly, like a cocktail mixed perfectly, Manhattan or Molotov."—studio-walton muyumba



In Praise of James Baldwin
 
 "Baldwin's gift to our literary tradition is that rarest of treasures, a rhetoric of fiction and the essay that is, at once, Henry Jamesian and King Jamesian."
—Henry Louis Gates, Jr.
 
 "Baldwin's way of seeing, his clarity, precision, and eloquence are unique . . . He manages to be concrete, particular . . . yet also transcendent, arching above the immediacy of an occasion or crisis. He speaks as great black gospel music speaks, through metaphor, parable, rhythm."
—John Edgar Wideman
 
 "Moralistic fervor, a high literary seriousness, the authority of the survivor, of the witness—these qualities made Baldwin unique."
—The New York Review of Books
 
 "The best essayist in this country—a man whose power has always been in his reasoned, biting sarcasm; his insistence on removing layer by layer the hardened skin with which Americans shield themselves from their country."
—The New York Times Book Review
 
 "He has not himself lost access to the sources of his being—which is what makes him read and awaited by perhaps a wider range of people than any other major American writer."
—The Nation
 
 "[Baldwin is] among the most penetrating and perceptive of American thinkers."
—The New Republic
Vintage, 9780307275967, 400pp.
Publication Date: September 6, 2011
About the Author
James Baldwin was born in 1924 and died in 1987. Among his more than twenty works of fiction and nonfiction are Giovanni's Room, Go Tell It on the Mountain, Notes of a Native Son, and The Fire Next Time.
 
Randall Kenan is the author of, among other books, the novel A Visitation of Spirits and the short story collection Let the Dead Bury Their Dead. He teaches creative writing at the University of North Carolina at Chapel Hill.