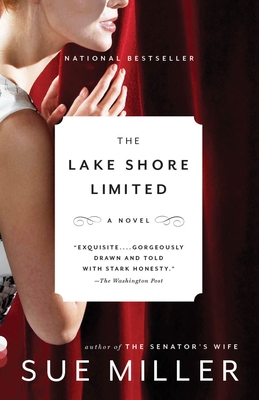 The Lake Shore Limited (Vintage Contemporaries) (Paperback)
Vintage, 9780307276704, 336pp.
Publication Date: May 31, 2011
Other Editions of This Title:
Digital Audiobook (4/5/2010)
* Individual store prices may vary.
Description
Meet Billy Gertz: a fiercely independent playwright, whose newest drama imagines the story of a man waiting to hear if his estranged wife has survived a cataclysmic event. As her life touches three other unforgettable characters, Billy's play—the emotion behind its genesis and its powerful performance—forms the thread that binds them all together. A moving love story and a tale of connection and loss, The Lake Shore Limited is Sue Miller at her dazzling best.
About the Author
Sue Miller is the best-selling author of the novels The Senator's Wife, Lost in the Forest, The World Below, While I Was Gone, The Distinguished Guest, For Love, Family Pictures, and The Good Mother; the story collection Inventing the Abbotts; and the memoir The Story of My Father. She lives in Boston, Massachusetts.
Praise For The Lake Shore Limited (Vintage Contemporaries)…
"Exquisite. . . . Profound. . . . Moving. . . . Gorgeously drawn and told with stark honesty. . . . Sophisticated and thoughtful. . . . The theatrical performance serves as a surprisingly effective stage for Miller's rueful reflection on what actors we all are—and how unfairly we convict ourselves for the impurity of our affection."
—The Washington Post
 
"Quintessential Miller, touching on the themes that have animated her fiction for the past quarter-century: the potency of sex; the failure of men and women to understand each other; the hunger for a different life."
—The New York Times Book Review
 
"Richly layered . . . subtle, piquant, satisfying. Reading Sue Miller is like watching an invisible
painter create a lovely, affecting work in smooth, expert strokes."
—San Francisco Chronicle
 
"Haunting. . . . Its power grows from Miller's intimate understanding of her characters . . . of missed connections, lost opportunities, and closely held memories that mutate slowly over time. . . . Miller gives us a knowing meditation upon the acts of alchemy and theft that constitute an artist's work: a meditation that sheds light on her own craft, so meticulously showcased in this novel."
—Michiko Kakutani, The New York Times
 
"Deeply moving. . . . [A] great accomplishment. . . . What [Miller is] doing seems easy, the most natural of narratives. And yet, stepping back to consider how precisely she was able to get any one character from here to there is enough to show us the subtlety of her art."
—Minneapolis Star-Tribune
 
"Miller seeks and impressively succeeds in finding what Wordsworth called 'a plainer and more emphatic language' to express 'essential passions of the heart.' Her art is to find those passions and that language in the streets and parks of the Boston she knows and writes about so well."
—Boston Globe
 
"An engaging, mature book. . . . Immensely satisfying, in concept, content and craftsmanship. . . . Miller is so skilled at the psychological deep-dive."
—Pittsburgh Post-Gazette
 
"Miller has written gripping novels that shrewdly tap the domestic zeitgeist. . . . [The Lake Shore Limited] continues the trend, exploring the fragility of love—and life—in the post-9/11 era. . . . Another graceful, poignant romance that resonates with the times."
—People
 
"Calmly perceptive. . . . Miller is a remarkably graceful writer who sweeps you up in her flow of words, in her ability to make a character seem like someone we know."
—The Seattle Times

"An ensemble novel about love, loss, and the discontents of middle age."
—Elle

"Miller never disappoints and always surprises."
—The Miami Herald
 
"Miller [is] among our foremost social anthropologists. . . . The reader can count on spending time with well-intentioned but flawed individuals who slip, hurt each other and are pummeled by the consequences, yet remain hopeful. . . . The characters are so real that it's startling to close the book on them at the end."
—The Oregonian
 
"Miller takes the reader into cinematic, three-dimensional life where men and women live through realistically complicated challenges in the midst of ordinary lives. Through each character's self-reflection, she seems to be asking how are we doing now, in this time, in this place? The conclusion is hopeful."
—Providence Journal
 
"With the surety of a master, Miller reveals the intersection of love and fate among [her] characters."
—Good Housekeeping
or
Not Currently Available for Direct Purchase