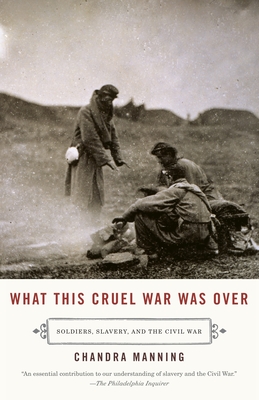 What This Cruel War Was Over: Soldiers, Slavery, and the Civil War (Paperback)
Soldiers, Slavery, and the Civil War
Vintage Books USA, 9780307277329, 350pp.
Publication Date: March 11, 2008
Description
In this unprecedented account, Chandra Manning uses letters, diaries, and regimental newspapers to take the reader inside the minds of Civil War soldiers-black and white, Northern and Southern-as they fought and marched across a divided country. With stunning poise and narrative verve, Manning explores how the Union and Confederate soldiers came to identify slavery as the central issue of the war and what that meant for a tumultuous nation. This is a brilliant and eye-opening debut and an invaluable addition to our understanding of the Civil War as it has never been rendered before.
About the Author
Chandra Manning graduated summa cum laude from Mount Holyoke College in 1993 and received a M.Phil from the National University of Ireland, Galway, in 1995. She took her Ph.D. at Harvard in 2002. She has lectured in history at Harvard and taught at Pacific Lutheran University in Tacoma, Washington. Currently, she is Assistant Professor of History at Georgetown University.
Praise For What This Cruel War Was Over: Soldiers, Slavery, and the Civil War…
"An essential contribution to our understanding of slavery and the Civil War." —The Philadelphia Inquirer

"A breathtakingly thorough examination of attitudes toward slavery of the rank-and-file troops, blue and gray, black and white."
—The Baltimore Sun

"An engrossing study of Civil War soldiers . . . by breathing life into them, she breathes life into debates over why the war came and how it was waged." —Chicago Tribune

"A splendid book that should be read carefully by all who have an interest in the Civil War." —Civil War News
Advertisement