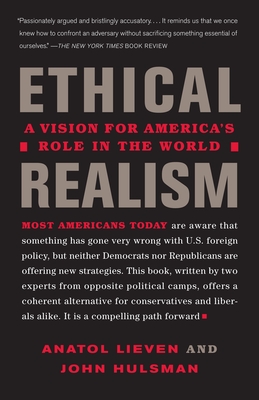 Ethical Realism (Paperback)
A Vision for America's Role in the New World
Vintage, 9780307277381, 224pp.
Publication Date: November 6, 2007
Other Editions of This Title:
Hardcover (9/26/2006)
* Individual store prices may vary.
Description
America today faces a world more complicated than ever before, but our politicians have failed to envision a foreign policy that addresses our greatest threats. Ethical Realism shows how the United States can successfully combine genuine morality with tough and practical common sense. By outlining core principles and a set of concrete proposals for tackling the terrorist threat and contend with Iran, Russia, the Middle East, and China, Anatol Lieven and John Hulsman show us how to strengthen our security, pursue our national interests, and restore American leadership in the world.
About the Author
Anatol Lieven is a senior research fellow at the New America Foundation and is the author of America Right or Wrong: An Anatomy of American Nationalism. He writes regularly for the Financial Times and the International Herald Tribune, among other publications. He lives in Washington, D.C.

John Hulsman is a former senior research fellow at The Heritage Foundation and a member of the Council on Foreign Relations, as well as a contributing editor to The National Interest. He advises congressional leaders from both parties on foreign policy issues and makes regular appearances on ABC, CBS, Fox News, CNN, MSNBC, PBS, and the BBC. He lives in Culpeper, Virginia.
Praise For Ethical Realism: A Vision for America's Role in the New World…
"Passionately argued and bristlingly accusatory. It reminds us that we once knew how to confront an adversary without sacrificing something essential of ourselves."—The New York Times"Lieven and Hulsman are passionate in their sobriety and remarkably concrete about the steps to be taken." —The Atlantic Monthly"Makes a powerful case that the United States needs a foreign policy based on hard facts and what we can achieve with our available resources, in order not to retreat from a U.S. world role, but, on the contrary, 'to live up to its glorious national promise.' " —General Brent Scowcroft, former national security adviser"A profoundly necessary alternative to the arrogance of preemptive warfare. . . . Ethical Realism is characterized by prudence, humility, understanding, responsibility, and genuine patriotism, and is deeply rooted in the best of America's history." —Senator Gary Hart
or
Not Currently Available for Direct Purchase