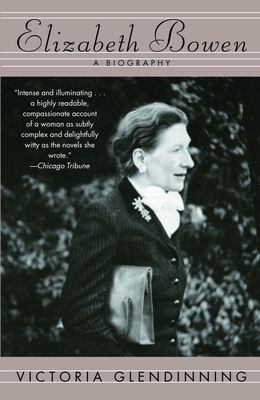 Elizabeth Bowen (Paperback)
A Biography
Anchor, 9780307277404, 368pp.
Publication Date: December 5, 2006
* Individual store prices may vary.
Description
In this richly detailed biography, Victoria Glendinning brings alive the great Anglo-Irish novelist whose literary achievements were equaled only by her unbounded gift for living. Taking us from Elizabeth Bowen's ancestral home in Ireland, Bowen's Court, to Oxford where she met Yeats and Eliot, to her service as an air-raid warden in London during World War II, this penetrating biography lifts the thin veil between Bowen's imaginative world and the complex emotional life that fired her shimmering novels. We see her at elegant parties, where such friends as Virginia Woolf, Eudora Welty, and Evelyn Waugh fell under her spell; in post-war Vienna with Graham Greene; and in war-torn London, where she fell in love with a younger man who was unprepared for life at the pitch she lived it. We see her bound through several affairs to a comfortable marriage, living "life with the lid on." The world of Elizabeth Bowen was akin to that of her novels: no one behaved shockingly, yet the passions that stirred within made her a master of the ultimate suspense of human relationships–the life of the heart.
About the Author
Victoria Glendinning was born in the north of England and read French and Spanish at Oxford. Her first book was A Suppressed Cry, a family memoir about her Quaker great-aunt. She has written biographies of Edith Sitwell (which won the James Tait Black Award and the Duff Cooper Prize), Vita Sackville-West (Whitbread Prize for Biography), Rebecca West, Anthony Trollope (Whitbread Prize for Biography), Jonathan Swift, and Leonard Woolf. She co-edited Mothers and Sons with her son Matthew Glendinning, and has published three novels, The Grown-Ups, Electricity, and Flight. She reviews books for national newspapers and journals, has been a judge of the W. H. Smith Prize and other literary awards, and chair of the judges of the Booker Prize. From 2000-03 she was president of English PEN. She is an Honorary Fellow of Somerville College, Oxford, and was awarded a CBE in 1998.
Praise For Elizabeth Bowen: A Biography…
"Intense and illuminating...a highly readable, compassionate account of a woman as subtly complex and delightfully witty as the novels she wrote." —Chicago Tribune"As a complex and compelling personality, Miss Bowen comes very much to life on these pages...entirely absorbing." —The New York Times