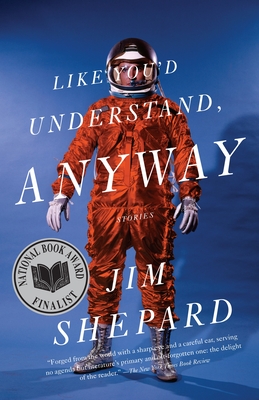 Like You'd Understand, Anyway (Vintage Contemporaries)
Paperback

* Individual store prices may vary.
Description
Following his widely acclaimed Project X and Love and Hydrogen—"Here is the effect of these two books," wrote the Chicago Tribune: "A reader finishes them buzzing with awe"—Jim Shepard now gives us his first entirely new collection in more than a decade.

Like You'd Understand, Anyway reaches from Chernobyl to Bridgeport, with a host of narrators only Shepard could bring to pitch-perfect life. Among them: a middle-aged Aeschylus taking his place at Marathon, still vying for parental approval. A maddeningly indefatigable Victorian explorer hauling his expedition, whaleboat and all, through the Great Australian Desert in midsummer. The first woman in space and her cosmonaut lover, caught in the star-crossed orbits of their joint mission. Two Texas high school football players at the top of their food chain, soliciting their fathers' attention by leveling everything before them on the field. And the rational and compassionate chief executioner of Paris, whose occupation, during the height of the Terror, eats away at all he holds dear.

Brimming with irony, compassion, and withering humor, these eleven stories are at once eerily pertinent and dazzlingly exotic, and they showcase the work of a protean, prodigiously gifted writer at the height of his form. Reading Jim Shepard, according to Michael Chabon, "is like encountering our national literature in microcosm."
Praise For Like You'd Understand, Anyway (Vintage Contemporaries)…
"Forged from the world with a sharp eye and a careful ear, serving no agenda but literature's primary and oft-forgotten one: the delight of the reader." —The New York Times Book Review"Gutsy, brilliantly imagined, strongly made, fresh and propulsive." —Chicago Tribune"With a near spooky sense of empathy and a wit that finds its mark like lightning, the stories in Jim Shepard's Like You'd Understand, Anyway transport readers light-years beyond what they think they know of the world." —Vanity Fair"Exquisite, multifaceted tales." —The New Yorker "A macro book with a micro eye. These wildly diverse stories share a fascination with the inevitable cost of familial obligation and the inescapable fallout from disaster, both natural and human-made." —Los Angeles Times Book Review"Cannily crafted. . . . The stories couldn't be funnier-or deadlier-in this mad-smart, wildly inventive set." —Elle "Jim Shepard is really a terrific writer. And it's not just the precision of the sentences. . . . It is the way he captures people throughout time with such an exact piercing, as though he's mapped out every corresponding nerve that can make us go weak at the knees." —Providence Journal"An astounding set of stories . . . so dangerously brilliant, they're radioactive." —O Magazine
Vintage, 9780307277602, 224pp.
Publication Date: August 12, 2008
About the Author
Jim Shepard is the author of six novels and two previous collections of stories. He teaches at Williams College in Williamstown, Massachusetts.