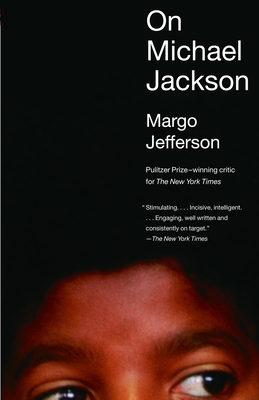 On Michael Jackson (Paperback)
Vintage, 9780307277657, 176pp.
Publication Date: January 9, 2007
Other Editions of This Title:
Digital Audiobook (1/9/2006)
* Individual store prices may vary.
Description
In On Michael Jackson—an at once passionate, incisive, and bracing work of cultural analysis—Pulitzer Prize–winning critic for The New York Times Margo Jefferson brilliantly unravels the complexities of one of the most enigmatic figures of our time.

Who is Michael Jackson and what does it mean to call him a "What Is It"? What do P. T. Barnum, Peter Pan, and Edgar Allan Poe have to do with our fascination with Jackson? How did his curious Victorian upbringing and his tenure as a child prodigy on the "chitlin' circuit" inform his character and multiplicity of selves? How is Michael Jackson's celebrity related to the outrageous popularity of nineteenth-century minstrelsy? What is the perverse appeal of child stars for grown-ups and what is the price of such stardom for these children and for us? What uncanniness provoked Michael Jackson to become "Alone of All His Race, Alone of All Her Sex," while establishing himself as an undeniably great performer with neo-Gothic, dandy proclivities and a producer of visionary music videos? What do we find so unnerving about Michael Jackson's presumed monstrosity? In short, how are we all of us implicated?

In this stunning book, Margo Jefferson gives us the incontrovertible lowdown on call-him-what-you-wish; she offers a powerful reckoning with a quintessential, richly allusive signifier of American society and popular culture.


About the Author
The winner of a Pulitzer Prize for criticism, Margo Jefferson previously served as book and arts critic for Newsweek and the New York Times. Her writing has appeared in, among other publications, Vogue, New York Magazine, The Nation, and Guernica. Her memoir, Negroland, received the National Book Critics Circle Award for Autobiography. She is also the author of On Michael Jackson and is a professor of writing at Columbia University School of the Arts.


Praise For On Michael Jackson…
"Stimulating.... Incisive, intelligent.... Engaging, well written and consistently on target." —The New York Times
 
"Jefferson writes...with elegance and attitude....One closes the book hungry to hear her take on other talented but troubled celebrities."  —The Washington Post
 
"Sparkling....Eloquent and provocative.... Watching Margo Jefferson's mind at work is as pleasurable and thrilling as seeing Michael Jackson dance."  —O, The Oprah Magazine
 
"Hers is a dazzling act of sustained vivacity and wisdom. Margo Jefferson brilliantly illuminates both Michael Jackson's psyche and his art, giving us in the process a fascinating broader picture of American pop culture. Shockingly, Jackson turns out to be as representative as he is singular."  —Ann Douglas, author of Terrible Honesty: Mongrel Manhattan in the 1920s and The Feminization of American Culture
 
"Margo Jefferson, an unfailingly shrewd and eloquent cultural critic, finds in Michael Jackson a paradigm for probing the ambitions, desperations, triumphs, and sacrifices of an artist who stakes everything on a crown. Beyond palace intrigue, she explicates the meaning of show business masks, of racial and social determinants, of spectacle on stage and in the courtroom. She is compelling." —Gary Giddins, author of Weather Bird and Bing Crosby: A Pocketful of Dreams