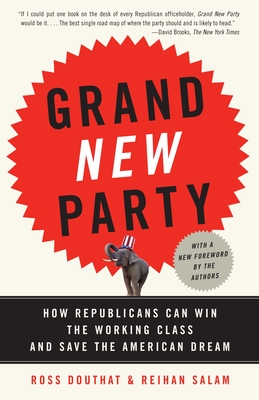 Grand New Party: How Republicans Can Win the Working Class and Save the American Dream (Paperback)
How Republicans Can Win the Working Class and Save the American Dream
Anchor Books, 9780307277800, 244pp.
Publication Date: June 2, 2009
Description
In a provocative challenge to Republican conventional wisdom, two of the Right's rising young thinkers call upon the GOP to focus on the interests and needs of working-class voters.Grand New Party lays bare the failures of the conservative revolution and presents a detailed blueprint for building the next Republican majority. Blending history, analysis, and fresh, often controversial recommendations, Ross Douthat and Reihan Salam argue that it is time to move beyond the Reagan legacy and the current Republican power structure. With specific proposals covering such hot-button topics as immigration, health care, and taxes, Grand New Party shakes up the Right, challenges the Left, and confronts the changing political landscape.
About the Author
Ross Douthat is an associate editor at and blogger for The Atlantic. He is the author of Privilege: Harvard and the Education of the Ruling Class and lives in Washington, D.C.Reihan Salam is an associate editor at The Atlantic and has been a producer at Hardball with Chris Matthews and an editor at the New York Times op-ed page. He lives in Washington, D.C. and blogs at TheAmericanScene.com.
Praise For Grand New Party: How Republicans Can Win the Working Class and Save the American Dream…
"If I could put one book on the desk of every Republican officeholder, Grand New Party would be it. . . . The best single roadmap of where the party should and is likely to head."—David Brooks, The New York Times "Any Republican politician worried about his party's eroding base and grim prospects should make a careful study of this book."—The New Yorker"Smart and intriguing. . . . Grand New Party is brimming with ideas."—Los Angeles Times"Thoughtful and important. . . . Mr. Douthat and Mr. Salam are pioneering tomorrow's conservatism today."—U.S. News & World Report"A valuable guide to the problems and prospects of both the GOP and the working class."—New York Post"An entirely original critique of how both liberals and conservatives have misdiagnosed the problems of a key American constituency."—Commentary Magazine"Thoughtful and important-a guidebook for Republicans in distress."—David Frum, author of Comeback: Conservatism That Can Win Again and The Right Man"If you want to read a serious, sane, secular, constructive argument about where conservatism needs to go, this is a great place to start. Few conservatives are as honest about the practical policy challenges the right faces in an increasingly pluralist and unequal society. And very few actually have something positive to offer in the face of it. I disagreed with much of this book, but I never failed to be enlightened and provoked on almost every page."—Andrew Sullivan, author of The Conservative Soul"We hope no Republicans read Ross Douthat and Reihan Salam's new book, because if they do, they might get an idea of how to undermine the emerging Democratic majority."—John B. Judis and Ruy Teixeira, authors of The Emerging Democratic Majority"Ross Douthat and Reihan Salam are two dazzlingly smart and blazingly original young conservatives. In Grand New Party, they give Republicans-and all Americans interested in mending broken families and giving everyone a fair chance-some excellent advice, not just about political strategy but also on public policy."—Michael Barone, senior writer, U.S. News & World Report, resident fellow, American Enterprise Institute, and coauthor of The Almanac of American Politics"Grand New Party fills a cavernous void of new thinking on the center-right, and it does so with intelligence, depth, and even some compassion. Ross Douthat and Reihan Salam are brilliant, ceaselessly interesting thinkers. I often disagree with them, but their case is sharp and well-stated, and in its general outlines offers the only path to remake the Republican Party into something decent. They have performed a truly valuable service for Republicans and non-Republicans alike."—Jonathan Chait, senior editor, The New Republic, and author of The Big Con"Ross Douthat and Reihan Salam offer a wholly original look at American politics. Republicans have failed to become the country's majority party because they have forgotten the working class, and Grand New Party outlines an innovative agenda that could revitalize the GOP—and the country."—Ramesh Ponnuru, senior editor, National Review
Advertisement