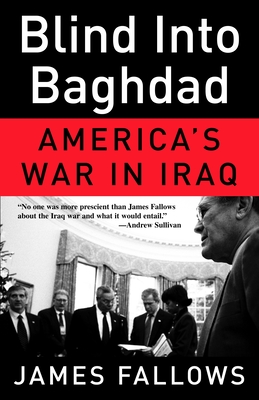 Blind Into Baghdad (Paperback)
America's War in Iraq
Vintage, 9780307277961, 256pp.
Publication Date: August 15, 2006
* Individual store prices may vary.
Description
In the autumn of 2002, Atlantic Monthly national correspondent James Fallows wrote an article predicting many of the problems America would face if it invaded Iraq. After events confirmed many of his predictions, Fallows went on to write some of the most acclaimed, award-winning journalism on the planning and execution of the war, much of which has been assigned as required reading within the U.S. military.

In Blind Into Baghdad, Fallows takes us from the planning of the war through the struggles of reconstruction. With unparalleled access and incisive analysis, he shows us how many of the difficulties were anticipated by experts whom the administration ignored. Fallows examines how the war in Iraq undercut the larger "war on terror" and why Iraq still had no army two years after the invasion. In a sobering conclusion, he interviews soldiers, spies, and diplomats to imagine how a war in Iran might play out. This is an important and essential book to understand where and how the war went wrong, and what it means for America.
About the Author
James Fallows is The Atlantic Monthly's National Correspondent, and has worked for the magazine for more than twenty years. His previous books include Breaking the News: How the Media Undermine American Democracy, Looking at the Sun, More Like Us and National Defense, which won the American Book Award for non-fiction. He and his wife live in Washington DC.
Praise For Blind Into Baghdad: America's War in Iraq…
"No one was more prescient than James Fallows about the war in Iraq and what it would entail."
–Andrew Sullivan

"The Iraq imbroglio has produced some amazing and, for war supporters, painful essays. . . . Blind Into Baghdad . . . show[s] that most of what happened in postwar Iraq was predicted prewar by government analysts. It's just that their reports were suppressed or ignored by the people making the decisions."
–David Brooks, The New York Times
or
Not Currently Available for Direct Purchase