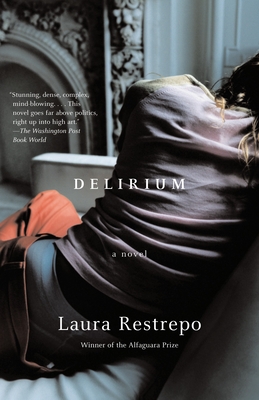 Delirium (Paperback)
Vintage Books USA, 9780307278043, 320pp.
Publication Date: March 11, 2008
Description
In this remarkably nuanced novel, both a gripping detective story and a passionate, devastating tale of eros and insanity in Colombia, internationally acclaimed author Laura Restrepo delves into the minds of four characters. There's Agustina, a beautiful woman from an upper-class family who is caught in the throes of madness; her husband Aguilar, a man passionately in love with his wife and determined to rescue her from insanity; Agustina's former lover Midas, a drug-trafficker and money-launderer; and Nicolas, Agustina's grandfather. Through the blend of these distinct voices, Restrepo creates a searing portrait of a society battered by war and corruption, as well as an intimate look at the daily lives of people struggling to stay sane in an unstable reality.
About the Author
Laura Restrepo is the bestselling author of several prizewinning novels published in over a dozen languages, including Leopard in the Sun, which won the Arzobispo San Clemente Prize, The Angel of Galilea, which won the Sor Juana Ines de la Cruz Prize in Mexico and the Prix France Culture in France, and Delirium, which won the 2004 Alfaguara Prize, the Grinzane Cavour Prize in Italy, and was shortlisted for the Prix du Meilleur Livre Etranger in France. She lives in Mexico City.
Praise For Delirium…
"Stunning, dense, complex, mind-blowing. . . . This novel goes far above politics, right up into high art." —The Washington Post Book World"One of the finest novels written in recent memory." —Jose Saramago"Masterful. . . . Literary dynamite." —The Milwaukee Journal-Sentinel "Every word in Delirium is perfectly chosen, painfully honest and brutally effective. Restrepo chooses her words like a poet, with infinite care." —The Philadelphia Inquirer"A disconcertingly lovely book, and its depiction of Colombian society at an awful moment in its history is sharp, vivid, utterly persuasive." —The New York Times Book Review
Advertisement