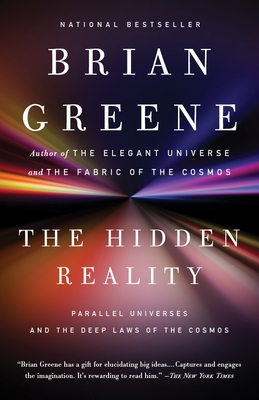 The Hidden Reality
Parallel Universes and the Deep Laws of the Cosmos
Paperback

* Individual store prices may vary.
Other Editions of This Title:
Digital Audiobook (1/24/2011)
Hardcover (1/25/2011)
Compact Disc (1/25/2011)
Description
The bestselling author of The Elegant Universe and The Fabric of the Cosmos tackles perhaps the most mind-bending question in modern physics and cosmology: Is our universe the only universe?

There was a time when "universe" meant all there is. Everything. Yet, a number of theories are converging on the possibility that our universe may be but one among many parallel universes populating a vast multiverse. Here, Briane Greene, one of our foremost physicists and science writers, takes us on a breathtaking journey to a multiverse comprising an endless series of big bangs, a multiverse with duplicates of every one of us, a multiverse populated by vast sheets of spacetime, a multiverse in which all we consider real are holographic illusions, and even a multiverse made purely of math--and reveals the reality hidden within each.

Using his trademark wit and precision, Greene presents a thrilling survey of cutting-edge physics and confronts the inevitable question: How can fundamental science progress if great swaths of reality lie beyond our reach? The Hidden Reality is a remarkable adventure through a world more vast and strange than anything we could have imagined.
Praise For The Hidden Reality: Parallel Universes and the Deep Laws of the Cosmos…
"Brian Greene has a gift for elucidating big ideas. . . Captures and engages the imagination. . . . It's exciting and rewarding to read him." —The New York Times

"A wonderful way to coax your brain into a host of strange and unfamiliar domains." —The Boston Globe

"Exciting physics, wrapped up in effortless prose. . . . Greene has done it again." —New Scientist

"If extraterrestrials landed tomorrow and demanded to know what the human mind is capable of accomplishing, we could do worse than to hand them a copy of this book." —The New York Times Book Review
 
"The multiverse is an idea whose time has come. . . . The book serves well as an introduction . . . and will open up many people's eyes." —The Wall Street Journal
 
"Greene takes us down the rabbit hole yet again, this time setting a course for the terra incognita of parallel universes, hidden worlds, alternate realities, holographic projections, and multiverse simulations. Greene likes to drop you into the middle of the action first and then explain the backstory, but he has an elegant knack for anticipating questions and immediately dealing with any confusion or objections." —The Daily Beast
 
"An accessible and surprisingly witty handbook to parallel universes…. Greene is immensely gifted at finding apt and colorful everyday analogies for the arcane byways of theoretical physics." —The Toronto Star
 
"Mind-stretching. . . . [The Hidden Reality is] Greene's impassioned argument 'for the capacity of mathematics to reveal hidden truths about the workings of the world.'" —The New Yorker
 
"Like [Stephen] Hawking and [Roger] Penrose before him, [Greene] is an author who writes with the confidence and authority of one who . . . has seen the promised land of cosmic truth." —Bookforum
 
"If you like your science explained rather than asserted, if you like your science writers articulate and intelligible, if you like popular science to make sense, even as it probes the heart of difficult theory, you are going to love The Hidden Reality and its author, Brian Greene." —New York Journal of Books
 
"Greene's forte is his amazing ability to give clear, everyday examples to illustrate complicated physical theories." —The Globe and Mail
 
"Ambitious. . . . Entertaining and well-written. . . . Greene is a keen interpreter." —The Christian Science Monitor
 
"A lucid, intriguing, and triumphantly understandable state-of-the-art look at the universe." —Publishers Weekly (starred review)
 
 "With a slew of clever analogies, Greene communicates with uncommon clarity, intuition, and honesty." —The Oxonian Review
 
"Greene's success at explaining the patently inexplicable lies in the way he delightfully melds the utterly bizarre and the utterly familiar." —Providence Journal
 
"Exotic cosmic terrain through which Greene provides expert guidance." —The Oregonian
 
"Mind-blowing." —The Sunday Times (London)
 
"Highly rewarding." —Scotland on Sunday
 
"[Greene] has something fresh and insightful to say about pretty much everything"—ScienceFiction.com
 
"Vast, energetic and complex." —The Easthampton Star
 
"The best guide available, in this universe at least."—Science News
 
"Greene's greatest achievement is that even as you grapple with these allusive concepts, you start falling in love with these mysteries." —The Express Tribune
Vintage, 9780307278128, 464pp.
Publication Date: November 1, 2011
About the Author
Brian Greene received his undergraduate degree from Harvard University and his doctorate from Oxford University, where he was a Rhodes Scholar. He joined the physics faculty of Cornell University in 1990, was appointed to a full professorship in 1995, and in 1996 joined Columbia University, where he is professor of physics and mathematics. He has lectured at both a general and a technical level in more than thirty countries, and on all seven continents, and is widely regarded for a number of groundbreaking discoveries in superstring theory. His first book, The Elegant Universe, was a national best seller and a finalist for the Pulitzer Prize. His most recent book, The Fabric of the Cosmos, was also a best seller. He lives in Andes, New York, and New York City.
Coverage from NPR