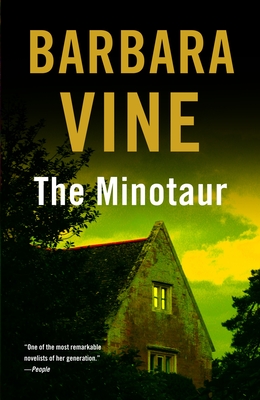 The Minotaur (Paperback)
Vintage Books USA, 9780307278326, 341pp.
Publication Date: March 13, 2007
Description
From the author Time magazine calls "the best mystery writer in the English-speaking world," comes an elegant and gripping new novel that blurs the line between psychological suspense and Gothic horror. Kerstin Krist arrives at the vine-covered Lydstep Old Hall in rural Essex to care for John Cosway, a former mathematical genius, who has been diagnosed with schizophrenia and kept under heavy sedation. John is the sole heir of the immense Cosway estate. As he takes his daily walks or sits quivering in a labyrinthine library, the rest of the family plots their own ways of coming into the fortune. It is classic Barbara Vine-an absolutely enthralling tale that keeps turning and twisting until the very last page.
About the Author
Barbara Vine's acclaimed novels include A DarkAdapted Eye, Anna's Book, Grasshopper, and The Blood Doctor. Both Vine and Rendell have won many awards for literary accomplishment, including three Edgar Awards and four Gold Daggers.
Praise For The Minotaur…
"One of the most remarkable novelists of her generation." —People"It is not just her command of language, characterization and plotting that makes her a master, but the authority of her unflinching moral vision."–Newsday "The Minotaur, oozing with menace and malice, is a superb piece of work. It deserves to win lots of prizes"–The Evening Standard "The best mystery writer in the English-speaking world." —Time"My dream writer. Her crime studies are subtle, mysterious affairs that never turn out quite the way you anticipate. Her characters have secret, often ugly depths that make them strangers with uncomfortably familiar features. And her prose style, so intricate in design and supple in execution, has the disquieting intimacy of an alien touch in the dark." —Marilyn Stasio, The New York Times Book Review"Surely one of the greatest novelists presently at work in our language." —Scott Turow"Those who haven't read her books have missed something unique and wonderful." —Tony Hillerman"Barbara Vine has transcended her genre by her remarkable imaginative power to explore and illuminate the dark corners of the human psyche." —P. D. James"Unequivocally the most brilliant mystery writer of our time. She magnificently triumphs in a style that is uniquely hers and mesmerizing." —Patricia Cornwell"Her clear, shapely prose casts the mesmerizing spell of the confessional." —The New Yorker"One of the finest practitioners of her craft in the English-speaking world." —The New York Times Book Review
Advertisement