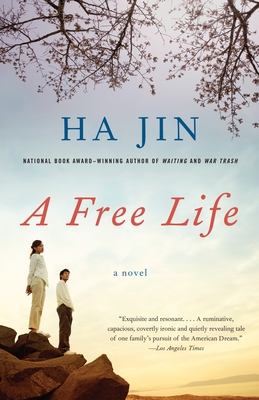 A Free Life (Paperback)
Vintage International, 9780307278609, 660pp.
Publication Date: January 27, 2009
Description
A New York Times Notable Book
One of the Best Books of the Year: Chicago Tribune, Chicago Sun-Times, Entertainment Weekly, Slate
In A Free Life, Ha Jin follows the Wu family -- father Nan, mother Pingping, and son Taotao -- as they sever their ties with China in the aftermath of the 1989 massacre at Tiananmen Square and begin a new life in the United States. As Nan takes on a number of menial jobs, eventually operating a restaurant with Pingping, he struggles to adapt to the American way of life and to hold his family together, even as he pines for a woman he loved and lost in his youth. Ha Jin's prodigious talents are in full force as he brilliantly brings to life the struggles and successes of the contemporary immigrant experience.
About the Author
Ha Jin left his native China in 1985 to attend Brandeis University. He is the author of the internationally bestselling novel Waiting, which won the PEN/Faulkner Award and the National Book Award, and War Trash, which won the PEN/Faulkner Award for Fiction, and was a Finalist for the Pulitzer Prize and the Kiriyama Pacific Rim Book Prize; the story collections The Bridegroom, which won the Asian American Literary Award, Under the Red Flag, which won the Flannery O'Connor Award for Short Fiction, and Ocean of Words, which won the PEN/Hemingway Award; the novels The Crazed and In the Pond; and three books of poetry. His latest novel, A Free Life is his first novel set in the United States. He lives in the Boston area and is a professor of English at Boston University.War Trash, The Crazed, The Bridegroom, Waiting, In the Pond, and Ocean of Words are available in paperback from Vintage Books.
Praise For A Free Life…
"Exquisite and resonant...Jin has fashioned a ruminative, capacious, covertly ironic and quietly revealing tale of one family's pursuit of the American Dream."
—Los Angeles Times
"Striking. . . . Jin's language has ripened into something extraordinary."
—The Washington Post Book World
"[A Free Life] transforms the genre…. The narrative unfolds on such an intimate, domestic scale…that it takes a while to realize that this is also an epic."
—Robert Pinsky, Slate
"A leisurely, generous tale….As vast and unbounded as the brave and overwhelming new world it describes."
—Boston Globe
Advertisement