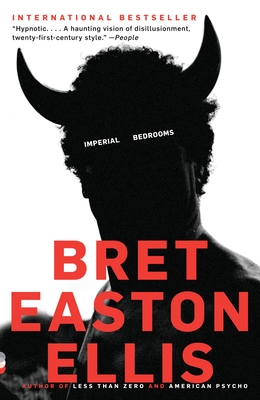 Imperial Bedrooms (Vintage Contemporaries) (Paperback)
Vintage, 9780307278692, 192pp.
Publication Date: May 3, 2011
* Individual store prices may vary.
Description
Bret Easton Ellis delivers a riveting, tour-de-force sequel to Less Than Zero, one of the most singular novels of the last thirty years.
 
Returning to Los Angeles from New York, Clay, now a successful screenwriter, is casting his new movie. Soon he is running with his old circle of friends through L.A.'s seedy side. His ex-girlfriend, Blair, is married to Trent, a bisexual philanderer and influential manager. Then there's Julian, a recovering addict, and Rip, a former dealer. Then when Clay meets a gorgeous young actress who will stop at nothing to be in his movie, his own dark past begins to shine through, and he has no choice but to dive into the recesses of his character and come to terms with his proclivity for betrayal.
About the Author
Bret Easton Ellis is the author of Less Than Zero, The Rules of Attraction, American Psycho, The Informers, Glamorama, Lunar Park, and Imperial Bedrooms. His works have been translated into twenty-seven languages. Less Than Zero, The Rules of Attraction, American Psycho, and The Informers have all been made into films. He lives in Los Angeles.
Praise For Imperial Bedrooms (Vintage Contemporaries)…
"Hypnotic. . . . A haunting vision of disillusionment, twenty-first-century style." --People

"This sequel is very much on target. . . . [Ellis] uses the thriller framework to infuse nerve-rending unease into this look at Tinseltown mores. Grade: A-" --Entertainment Weekly
 
"Taut and ultimately terrifying. . . . In six novels, the author has emerged as one of the most gifted and serious novelists working in America today." —Financial Times

"Enough talk of [Ellis's] literary genius, let's call him what he really is: a terrific horror writer. . . . An absolute creepfest [and] a festival of panting paranoia."--Chicago Sun-Times
 
"Brutally conceived, and effectively done. . . . There is no doubt that Ellis retains the ability to startle and disquiet." —The Times Literary Supplement (London)
 
"Arrestingly spare . . . will leave you feeling bruised, guarded and a little nervous about noises at night. . . . What you really notice is Ellis's newfound love of noir. He's reinvigorated and ready to get mysterious and mean. . . . As ever, Ellis's details crystallize into elegant remoteness [and] if this is shallowness, the word needs a new definition." --Time Out New York
 
"In the same staccato prose that made Zero feel frighteningly fresh twenty-five years ago, Ellis paints a creepy L.A." --USA Today
 
"Its dirty charms are indisputable." --Playboy
 
"Reading Ellis is a thrilling and strangely voyeuristic experience, [and] you can't look away." —Venus Zine

"A page-turning read. . . . Ellis is showing us what has changed in 25 years--not just in his characters or in Hollywood but in America and maybe the world."--The Oregonian

"Imperial Bedrooms is a quicker, more controlled fire than its predecessor, and, like a good showman, Ellis has learned to save the best of the novel's many tricks for last. . . . Ellis's Godfather II, his Genesis story. . . . Devastating." --The Village Voice
 
"Visceral and often harrowing, Ellis delivers a work that matches such career peaks as Lunar Park and the infamous American Psycho." --The Examiner