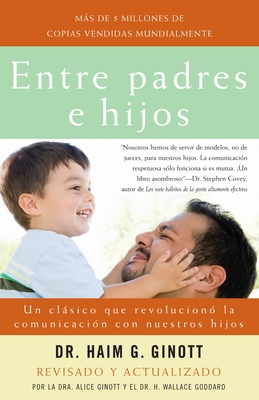 Entre Padres E Hijos: Un Clasico Que Revoluciono la Comunicacion Con Nuestros Hijos (Paperback)
Un Clasico Que Revoluciono la Comunicacion Con Nuestros Hijos
Vintage Books USA, 9780307278906, 267pp.
Publication Date: March 13, 2007
* Individual store prices may vary.
or
Not Currently Available for Direct Purchase
Description
Durante los ultimos treinta y cinco anos, Entre padres e hijos ha permitido que millones de padres alrededor del mundo fortalezcan las relaciones con sus hijos. Escrito por el celebre psicologo Dr. Haim Ginott, este libro revolucionario brinda consejos y ensenanzas para educar a los hijos de forma carinosa y disciplinada a la vez.
Con mas de 5 millones de ejemplares vendidos mundialmente, esta guia clasica e indispensable --ahora en una edicion actualizada --esta repleta de lecciones que le ensenaran como:
- Disciplinar sin amenazas, sarcasmo, ni castigos
- Criticar sin degradar y elogiar sin juzgar
- Reconocer las emociones, opiniones e ideas de su hijo en vez de argumentar contra ellas
- Inculcar un sentido de responsabilidad en cada faceta de la vida de su hijo: desde las tareas del hogar y de la escuela hasta el cuidado de las mascotas y de hermanos menores
About the Author
La doctora Alice Ginott, la esposa del fallecido doctor Haim Ginott, es una renombrada psicologa, psicoterapeuta, escritora y conferenciante, ganadora del premio Eleanor Roosevelt de Humanidades. Ella es antigua profesora adjunta de psicologia de Hunter College y Queens College de Nueva York, y por anos escribio la columna "Between Us" del sindicato estadounidense King Features. Ella es licensiada en Filosofia y Letras por la Universidad de Indiana, y curso un master y se doctoro en la New School University de Nueva York. La doctora Ginott vive con su segundo esposo en Nueva York. El doctor H. Wallace Goddard es profesor en la University of Arkansas Cooperative Extension Service, donde desarrolla y ensena programas acerca de la vida familiar. El es uno de cuatro expertos que el gobierno estadounidense solicito para desarrollar un modelo de educacion para padres (The National Extension Parent Education Model), y tambien colaboro con Stephen Covery en el libro de este, The 7 Habits of Highly Effective Families. El doctor Goddard y su esposa Nancy viven en Little Rock, Arkansas.
Praise For Entre Padres E Hijos: Un Clasico Que Revoluciono la Comunicacion Con Nuestros Hijos…
"Nosotros hemos de servir de modelos, no de jueces, para nuestros hijos. La comunicación respetuosa sólo funciona si es mutua. ¡Un libro asombroso!"
—Dr. Stephen Covey, autor de Los siete hábitos de la gente altamente efectiva

"El libro más importante jamás escrito sobre el mundo emocional de los niños. Imprescindible para todo padre. Usted y sus hijos quedarán eternamente agradecidos".
—Dr. John M. Gottman, autor de Los mejores padres y Siete reglas de oro para vivir en pareja

"Entre padres e hijos es una guía pionera para la crianza emocionalmente inteligente de los hijos. Lo recomiendo entusiasmadamente". —Daniel Goleman, autor de Inteligencia emocional
Advertisement