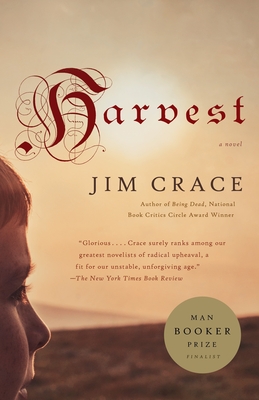 Harvest
Paperback

* Individual store prices may vary.
Other Editions of This Title:
Digital Audiobook (4/25/2013)
Digital Audiobook (8/31/2013)
Hardcover (2/12/2013)
Description
SHORT-LISTED FOR THE MAN BOOKER PRIZE
A Christian Science Monitor Best Book of the Year

On the morning after harvest, the inhabitants of a remote English village awaken looking forward to a hard-earned day of rest and feasting at their landowner's table. But the sky is marred by two conspicuous columns of smoke, replacing pleasurable anticipation with alarm and suspicion.

One smoke column is the result of an overnight fire that has damaged the master's outbuildings. The second column rises from the wooded edge of the village, sent up by newcomers to announce their presence. In the minds of the wary villagers a mere coincidence of events appears to be unlikely, with violent confrontation looming as the unavoidable outcome. Meanwhile, another newcomer has recently been spotted taking careful notes and making drawings of the land. It is his presence more than any other that will threaten the village's entire way of life.

In effortless and tender prose, Jim Crace details the unraveling of a pastoral idyll in the wake of economic progress. His tale is timeless and unsettling, framed by a beautifully evoked world that will linger in your memory long after you finish reading.
Praise For Harvest…
Winner of the James Tait Black Prize!
Longlisted for the Man Booker prize!

"Jim Crace is the most generous of writers. A fabulist, an open heart, an imagination in full flight. There is something of a harvest in every book: the promise, the violence, the fall, the regain. And Harvest is one of his best novels ever. He is, quite simply, one of the great writers of our time."  —Colum McCann, National Book Award-winning author of Let the Great World Spin

"Glorious ... Harvest calls to mind J. M. Coetzee's finest and most allegorical novel, Waiting for the Barbarians ... Crace writes with a particular, haunting empathy for the displaced ... His plots may be epic, but his sentences carry a sensual charge ... In his compassionate curiosity and his instincts for insurgent uncertainty, Crace surely ranks among our greatest novelists of radical upheaval, a perfect fit for our unstable, unforgiving age." —The New York Times Book Review

"The most seductive and enthralling of Crace's novels." —New Statesman

"[Harvest] is intellectually and morally engaging while also being exciting to read ... Mr. Crace's imagery brilliantly suggests the loamy, lyric glories of rustic English language and life ... [he] devotes his considerable talents to telling an affecting tale of a bound world and its simple people as they head toward a tragic and inexorable breakdown."
—Wall Street Journal

"Surreptitiously thought-provoking ... Harvest attains a haunting and almost subversive quality." —Boston Globe

"Ravishingly rich in evocations of country life ... Crace's prose is so sensual you can't help but believe it describes an actual material place. But this village is like the forests of the Brothers Grimm, a setting meant to be both familiar and strange. If you think Crace is only talking about the shift from the medieval to the modern world, you'd be very, very wrong." —Salon

"In language beautiful and painstakingly precise, Jim Crace circumscribes the story as neatly as a fairy tale ... Entirely absorbing." —Minneapolis Star-Tribune

"Harvest is as finely written as it is tautly structured. Pungently flavoured with archaic words, its language is exhilaratingly exact, sometimes poetic and sometimes stark. Magnificently resurrecting a pivotal moment in our history about which it is deeply knowledgeable, this simultaneously elegiac and unillusioned novel is an achievement worthy to stand alongside those of Crace's great fictional ­influence, William Golding." —The Sunday Times

"Crace, an original and a literary stylist, with, usually, something remarkable to say, says it here in a haunting work of sudden violence and vengeance ... Few novels as fine or as complex in their apparent simplicity will be published this, or indeed any, year." —Irish Times

"As with Crace's other novels, Harvest is deftly written, in language — formal, slightly archaic even — that reflects the setting it describes. It's also tightly plotted ... Crace's real concern is his characters, the way that, like all of us, they make mistakes and act from weakness, and turn on one another when things go wrong." —Los Angeles Times

"Crace's signature measured delivery and deliberate focus create unforgettably poetic passages that quiver with beauty. An electrifying return to form." —Publishers Weekly, starred review

"Rarely does language so plainspoken and elemental tell a story so richly open to interpretation on so many different levels....With economy and grace, the award-winning Crace gives his work a simplicity and symmetry that belie the disturbances beneath the consciousness of its narrator....Crace continues to occupy a singular place in contemporary literature."
—Kirkus Reviews, starred review
Vintage, 9780307278975, 256pp.
Publication Date: September 20, 2013
About the Author
JIM CRACE is the author of ten previous novels. Being Dead was shortlisted for the 1999 Whitbread Fiction Prize and won the U.S. National Book Critics Circle Award for Fiction in 2000. In 1997, Quarantine was named the Whitbread Novel of the Year and was shortlisted for the Booker Prize. Jim Crace has also received the Whitbread First Novel Prize, the E. M. Forster Award, and the Guardian Fiction Prize. He lives in Birmingham, England.
or
Not Currently Available for Direct Purchase