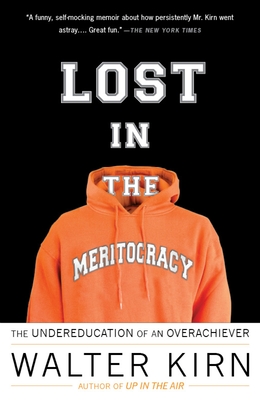 Lost in the Meritocracy (Paperback)
The Undereducation of an Overachiever
Anchor, 9780307279453, 224pp.
Publication Date: June 1, 2010
Other Editions of This Title:
Hardcover (5/19/2009)
* Individual store prices may vary.
Description
A New York Times Notable Book
A Daily Beast Best Book of the Year
A Huffington Post Best Book of the Year

From elementary school on, Walter Kirn knew how to stay at the top of his class: He clapped erasers, memorized answer keys, and parroted his teachers' pet theories. But when he launched himself eastward to an Ivy League university, Kirn discovered that the temple of higher learning he had expected was instead just another arena for more gamesmanship, snobbery, and social climbing. In this whip-smart memoir of kissing-up, cramming, and competition, Lost in the Meritocracy reckons the costs of an educational system where the point is simply to keep accumulating points and never to look back—or within. 
 
About the Author
Walter Kirn is a regular reviewer for The New York Times Book Review, and his work appears in The Atlantic, The New York Times Magazine, Vogue, Time, New York, GQ and Esquire. He is the author of six previous works of fiction: My Hard Bargain: Stories, She Needed Me, Thumbsucker, Up in the Air, Mission to America and The Unbinding. Kirn is a graduate of Princeton University and attended Oxford on a scholarship from the Keasby Foundation. He lives in Livingston, Montana.
Praise For Lost in the Meritocracy: The Undereducation of an Overachiever…
"A funny, self-mocking memoir about how persistently Mr. Kirn went astray. . . . Great fun." —The New York Times

"The witty, self-castigating story of the author's single-minded quest to succeed at a series of tests and competitions that took him from one of the lowest-ranked high schools in Minnesota to Princeton." —The New York Times Book Review

"Very few people could get away with complaining about attending Princeton University, but Walter Kirn does. . . . Darkly hilarious." —The Plain Dealer 
 
"Scathing and funny. . . . Too delicious." —Newsweek
 
"Hilarious. . . . Kirn recounts the many ways that the America educational rat race betrayed him." —The Washington Post Book World

"Tough, funny, and moving. . . . What's such great fun about the book is the intense good humor with which he looks back, and the wonderful portraits he provides of the side characters in his life. . . . There's a kind of joyous cackle behind these colorful scenes, and a sadness, too, both finally giving way to a clean-edged wisdom that infiltrates his story as he leads us toward his moral awakening." —O, The Oprah Magazine
 
"Tartly funny." —Newsday 
 
"The revelation that skating on the surface of knowledge might kill him if he didn't cut it out was Kirn's alone, but its impact registers far and wide." —Elle
 
"A diverting memoir that has less to do with grades and standardized test scores than with a Mormon-raised farm boy's difficulty adjusting to the temptations and prejudices of an Ivy League school." —The Miami Herald
 
"A smart, ambitious writer. . . . Kirn's sentences would be a delight even if they were empty. That they address a serious subject—the Ivy League training that is less about learning than about preparing its beneficiaries to join the ruling class—seems like a bonus." —Bloomberg News
 
"A fine narrative of what it is to be young, lost, deeply immersed in drugs, and frequently on the verge of a nervous breakdown." —Bookslut 

 "Kirn shows, better than any recent book, how our educational system is perverted from beginning to end. . . . Kirn's is one idealist's stirring recollection of what it took to awaken himself from the sloth imposed by the Ivy League's bureaucratic-meritocracy." —The Daily Beast

"Our only wish was for more." —McSweeney's
or
Not Currently Available for Direct Purchase