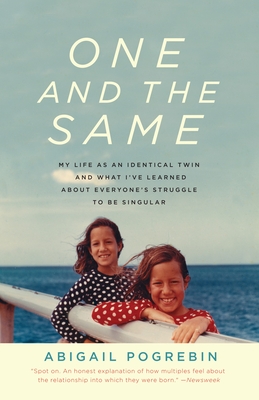 One and the Same
My Life as an Identical Twin and What I've Learned About Everyone's Struggle to Be Singular
Paperback

* Individual store prices may vary.
Other Editions of This Title:
Digital Audiobook (11/29/2009)
Compact Disc (11/30/2009)
MP3 CD (11/30/2009)
Description
Journalist Abigail Pogrebin is many things—wife, mother, New Yorker—but the one that has defined her most profoundly is "identical twin." As children, she and her sister, Robin, were inseparable. But when Robin began to pull away as an adult, Abigail was left to wonder not only why, but also about the very nature of twinship. What does it mean to have a mirror image? How can you be unique when somebody shares your DNA?
 
In One and the Same, Abigail sets off on a quest to understand how genetics shape us, crisscrossing the country to explore the varied relationships between twins, which range from passionate to bitterly resentful. She speaks to the experts and tries to answer the question parents ask most—is it better to encourage their separateness or closeness? And she paints a riveting portrait of twin life, yielding fascinating truths about how we become who we are.
Praise For One and the Same: My Life as an Identical Twin and What I've Learned About Everyone's Struggle to Be Singular…
"Spot on. An honest explanation of how multiples feel about the relationship into which they were born." —Newsweek

"An immensely satisfying, enlightening read." —BookPage
 
"A fresh alternative to traditional how-to guidebooks for parents expecting two or more." —Twins magazine

"This book about what it means to be a duplicate is smart and revealing and wise—and, well, singular." —The Daily Beast
 
"[An] enchanting, fascinating book." —Lesley Stahl of "60 Minutes" and Women on the Web 

"One and the Same is a touching, funny, smart book, written with considerable flair. Though it contains medical, social, political, and historical perspectives, it is at its core a book about love and intimacy." —Andrew Solomon, author of The Noonday Demon 
 
"A goldmine of information and insight into the twin experience. . . . One and the Same is not just for twins or parents of twins. It's a study of everyone's individuality. It looks at what makes us who we are and what shapes our identity. It's a fascinating look at the world of twinship, as well as a compelling read about the search for one's 'self.'" —Twins Talk 
 
"A witty and compassionate guide to the myths and science of twinship." —Honor Moore, author of The Bishop's Daughter
 
"Pogrebin's candor about her own twinship [is] endearing. . . . A juicy read." —Bookslut
 
"A page-turner chock-filled with information about twins." —Pamela Weinberg, co-author of bestselling parent guide City Baby
 
"Captivating. . . . This fascinating read is as much of a page-turner as the most exciting thriller." —Bookreporter
 
"Funny, insightful, and deeply moving—as the mother of twins I found this a must read." —Kerry Kennedy, author of Being Catholic Now
 
"One and the Same beautifully captures the complex intriguing elements of identical twins' unique joys and challenges. This candid exposé of the author's own twinship experience, and that of others, provides a most delightful and informative look at this special relationship." —Nancy L. Segal, Ph.D., Professor of Psychology, CSU Fullerton and author of Entwined Lives and Indivisible by Two
Anchor, 9780307279620, 288pp.
Publication Date: October 5, 2010
About the Author
Abigail Pogrebin is the author of Stars of David: Prominent Jews Talk About Being Jewish. A Yale graduate, she has written for many national publications and has produced for Mike Wallace at 60 Minutes, Charlie Rose, Bill Moyers, and Fred Friendly. She lives with her husband and two children in Manhattan—as does her identical twin, New York Times reporter Robin Pogrebin.
or
Not Currently Available for Direct Purchase