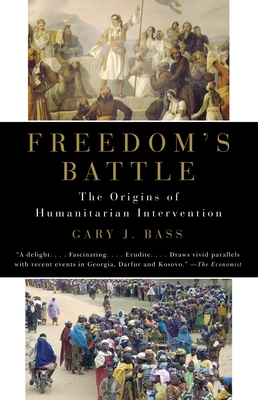 Freedom's Battle: The Origins of Humanitarian Intervention (Paperback)
The Origins of Humanitarian Intervention
Vintage Books USA, 9780307279873, 509pp.
Publication Date: October 13, 2009
Description
This gripping and important book brings alive over two hundred years of humanitarian interventions. Freedom's Battle illuminates the passionate debates between conscience and imperialism ignited by the first human rights activists in the 19th century, and shows how a newly emergent free press galvanized British, American, and French citizens to action by exposing them to distant atrocities. Wildly romantic and full of bizarre enthusiasms, these activists were pioneers of a new political consciousness. And their legacy has much to teach us about today's human rights crises.
About the Author
Gary J. Bass is a professor of politics and international affairs at Princeton University. He is the author of Stay the Hand of Vengeance: The Politics of War Crimes Tribunals. A former reporter for The Economist, he has written often for the New York Times, and has also written for The New Yorker, The Washington Post, the Los Angeles Times, The New Republic, and Foreign Affairs.
Praise For Freedom's Battle: The Origins of Humanitarian Intervention…
A New York Times and Washington Post Notable Book

"A delight. . . . Fascinating. . . . Erudite. . . . Draws vivid parallels with recent events in Georgia, Darfur and Kosovo. . . . A cool, erudite, historical view. . . . History may not repeat itself exactly, but the arguments are often strikingly similar."
—The Economist

"A wonderfully intelligent and sardonic history. . . . Full of fascinating and ironic incident. . . . Spirited and elegant. . . . Bass expertly brings to life a rich panoply of characters. . . . Helps us to see our own moral history in a more serene and clear-eyed light. . . . Thanks to Bass's fine book, we can uncover the lineage of some enduring intuitions about the duties that people owe each other across borders."
—Michael Ignatieff, The New Republic

"An absorbing, well-researched, and frequently amusing book. . . . Bass provides a trove of fresh material, as well as fresh insight, concerning this exciting period."
—Christopher Hitchens, Foreign Affairs

"[A] vivid new exploration of the historical roots of modern-day humanitarian intervention. . . . Bass moves convincingly from the present to the past."
—Samantha Power, Slate

"Engaging. . . . [A] compelling narrative, rich with accounts of parliamentary debate and battlefield confrontation. . . . Persuasive."
—The New Yorker

"Lively, subtle, and comprehensive. . . . Sheds a penetrating light on current policy debates. . . . Bass's sense of nuance constitutes the strength of this book, which has the force of a polemic without descending to one."
—Robert D. Kaplan, Washington Post

"Bass tells the strange, bloody tales of these now nearly forgotten campaigns with extraordinary verve and wit. . . . The book's real payoff is what it brings to our understanding of contemporary conflicts."
—Lev Grossman, Time

"Lively. . . . Fascinating and well told. . . . [Bass] writes with a jaunty flair and an eye for eccentric characters."
—New York Times Book Review

"Bass relates these episodes masterfully, providing a wealth of detail in fluid prose. Although he aims to make a point—about the legitimacy of humanitarian intervention—his accounts are full and fair-minded. Freedom's Battle is a pleasure for the learning one can take away from it and for the opportunity to reflect on how much things have changed since the 19th century, and how much, in certain ways, they have not."
—Wall Street Journal

"Lively. . . . Engaging. . . . Barack Obama could learn a lot from Freedom's Battle about how to restore the country's moral leadership in the world."
—Boston Globe

"[An] eye-opening new history of humanitarian intervention."
—New York Magazine

"Gary Bass is one of the country's most important scholars working on the politics of human rights. Freedom's Battle is a brilliant book—meticulously researched, surprising, nuanced, and remarkably entertaining."
—Steve Coll, author of Ghost Wars and The Bin Ladens

"In Freedom's Battle, Gary Bass takes hold of what is perhaps the most vitally important of contemporary foreign policy questions—when is a nation justified, for humanitarian reasons, to intervene abroad?—and traces its roots deep into the rich soil of recent history. As Bass shows by his fascinating historical detective work, this painful question has dogged leading Western statesmen for more than a century. How they answered it, as Bass shows in rich detail, has a great deal to teach us today. This is a gripping and important book."
—Mark Danner, author of The Massacre at El Mozote and Torture and Truth

"Delightful wit, insight and scholarship. . . . Readers will relish Bass's gripping account of bloodthirsty characters, bitter political infighting and cynical leaders, forced by public opinion into moral actions."
—Publishers Weekly (starred review)

"Timely, enlightening, and gripping. . . . The very best kind of historical writing, Bass's work is lively, moving, deep, and full of insight for today's challenges."
—Library Journal

"Gary Bass has written an innovative book that broadens the idea of humanitarian intervention. Though we might like to regard contemporary anti-genocide campaigns as unique achievements of our times, Freedom's Battle offers a striking and original argument that activists and politicians of the 19th century paved the way with a series of interventions to stop the slaughter of innocents. Bass's new and provocative reading of 19th-century political history teaches us how to better react to the genocides in our world."
—Peter Maass, author of Love Thy Neighbor: A Story of War
Advertisement