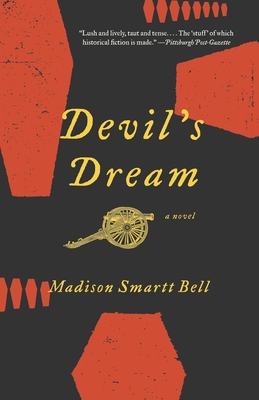 Devil's Dream (Paperback)
Vintage Books USA, 9780307279910, 335pp.
Publication Date: November 16, 2010
* Individual store prices may vary.
or
Not Currently Available for Direct Purchase
Description
A powerful new novel about Nathan Bedford Forrest, the most reviled, celebrated, and legendary of Civil War generals. With the same eloquence, dramatic energy, and grasp of history that marked his award-winning fictional trilogy of the Haitian Revolution, Madison Smartt Bell now turns his gaze to America's Civil War. We see Forrest on and off the battlefield, in less familiar but no less revealing moments of his life; we see him treating his slaves humanely even as he fights to ensure their continued enslavement; we see his knack for keeping his enemy unsettled, his instinct for the unexpected, and his relentless stamina. As Devil's Dream moves back and forth in time, a vivid portrait comes into focus: a rough, fierce man with a life full of contradictions.
About the Author
Madison Smartt Bell is the author of fourteen previous works of fiction, including Soldier s Joy and Anything Goes. He was born in Nashville, Tennessee, and grew up collecting bullets on the same fields where many of Forrest s battles were fought. He now lives in Baltimore, where he has taught at Goucher College since 1984."
Praise For Devil's Dream…
"Lush and lively, taut and tense. . . . The 'stuff' of which historical fiction is made. . . . According to historian Shelby Foote, the Civil War produced two authentic geniuses: Abraham Lincoln and Nathan Bedford Forrest. . . . Forrest has found his novelist in Madison Smartt Bell. Born and raised in Nashville, Bell knows the sights, smells, sins and syntax of the Civil War South."
—Pittsburgh Post-Gazette

"Anyone interested in looking at human inter-dependencies and disparities of the times should read the somber but telling pages of Devil's Dream."
—Jackson Free Press

"Sparkling with jeweled descriptive moments, this volume absorbs Forrest and those around him into the crossroads of a violent, dangerous moment where history seems to compress, the dead awaken, and conflicts slip into a time zone that defies chronology."
—Baltimore City Paper
 
"[In Devil's Dream] you'll find one of the most compelling figures of American military history and a damn colorful creation to boot."
—Miami Sun Post
 
"Many of Bell's dreamlike images have the effect of ripples across water from a skipped stone—quick and close in the beginning, they slow, then disappear back into the smooth-as-glass water."
—Nashville Scene

"From this retrospective view, hardscrabble Forrest emerges as a cog in a larger machine, a creature of a world he didn't make, though complicit, to be sure, in its moral failures. North and South, 'they're in it right up to the neck with the rest of us,' Forrest insists, speaking of slavery. 'Make yore own self free,' he tells his black son. But Madison Smartt Bell knows that such advice makes little sense to anyone wearing leg irons, that slavery didn't end without unthinkable violence. And so, unlike Forrest, he whistles his devil's dream to a different, more gripping, far more human tune."
—New York Times Book Review
 
"Rich descriptions of battles, accounts of the lives of the men who fought alongside Forrest, and the pure force of Forrest's personality make this an engrossing read."
—Library Journal
 
"Brave, accomplished and utterly compelling, seamed with passages of haunting, lyrical beauty."
—Kirkus Reviews
 
"The unconventional structure and supernatural twist expand the narrative into an engaging examination of what it means to be free, a question that haunts Forrest through his life."
—Publishers Weekly
 
"Exciting and authentic, Bell's novel of a world in violent transition is flush with action and ravishing evocations of forests and fields, heat and rain, the muddy churn of hungry troops, and fleeting moments of respite as tragedy is leavened with sensuality and mystery. Will Bell's Bedford, who so perfectly embodies the cruel paradoxes of race and war, ride again?"
—Booklist (starred review)
Advertisement