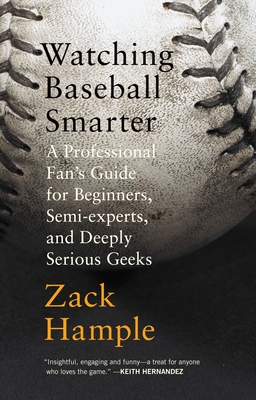 Watching Baseball Smarter (Paperback)
A Professional Fan's Guide for Beginners, Semi-experts, and Deeply Serious Geeks
Vintage, 9780307280329, 272pp.
Publication Date: March 27, 2007
* Individual store prices may vary.
Description
This smart and funny fan's guide to baseball explains the ins and outs of pitching, hitting, running, and fielding, while offering insider trivia and anecdotes that will appeal to anyone—whether you're a major league couch potato, life-long season ticket-holder, or a beginner.
What is the difference between a slider and a curveball?
At which stadium did "The Wave" first make an appearance?
How do some hitters use iPods to improve their skills?
Which positions are never played by lefties?
Why do some players urinate on their hands?
Combining the narrative voice and attitude of Michael Lewis with the compulsive brilliance of Schott's Miscellany, Watching Baseball Smarter will increase your understanding and enjoyment of the sport–no matter what your level of expertise.
Features an glossary of baseball slang, an appendix of important baseball stats, and an appendix of uniform numbers.
About the Author
Zack Hample has written three books about baseball and has appeared on dozens of TV and radio shows. He has snagged more than 4,600 baseballs from 48 different major league stadiums.  Hample runs a business called "Watch With Zack" and has a popular blog, The Baseball Collector, chronicling his obsession.
http://www.zackhample.com
Praise For Watching Baseball Smarter: A Professional Fan's Guide for Beginners, Semi-experts, and Deeply Serious Geeks…
"This isn't the first book to take on the challenge of explaining baseball intricacies, but I've never seen it done better. . . . When it comes to producing 'aha moments' of baseball enlightenment, the book indeed has a high batting average." —The Seattle Times

"Hample calls himself an obsessed fan—obsessed in a good way—and the product of his torment is a funny and informative guide for all levels of fans." —Yankees Magazine

"Engaging. . . . Hample's book is both deceptive in its simplicity (the basic rules, but also the ten different ways a pitcher can commit a balk) and surprising in its range." —Fortune