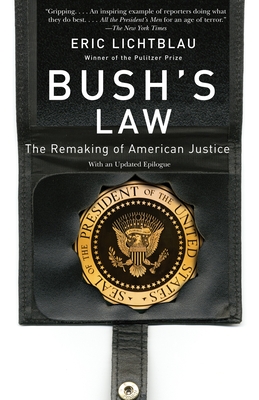 Bush's Law (Paperback)
The Remaking of American Justice
Anchor Books, 9780307280541, 349pp.
Publication Date: May 5, 2009
* Individual store prices may vary.
or
Not Currently Available for Direct Purchase
Description
In the aftermath of 9/11, President Bush declared that the struggle against terrorism would be nothing less than a war a war that would require new tools and a new mind-set. As legal sanction was given to covert surveillance and interrogation tactics, internal struggles brewed over programs and policies that threatened to tear at the constitutional fabric of the country.Bush's Law is the alarming account of the White House's efforts to prevent the publication of Eric Lichtblau's expose on warrantless wiretapping and an authoritative examination of how the Bush administration employed its war on terror to mask the most radical remaking of American justice in generations.
About the Author
Eric Lichtblau received the 2006 Pulitzer Prize for national reporting. He has worked in the Washington bureau of The New York Times covering the Justice Department since 2002. From 1999 to 2002 he covered the Justice Department for The LA Times. He is a graduate of Cornell University and currently lives in Washington.
Praise For Bush's Law: The Remaking of American Justice…
"Gripping. . . . An inspiring example of reporters doing what they do best. . . . All the President's Men for an age of terror."
—The New York Times

"A riveting account of the Bush administration's various steps and missteps in chasing down terrorists. . . . A must-read for those curious about the back story in the legal war on terror."
—Slate

"This highly detailed, well-documented account is an exhibit of investigative reporting at its finest."
—Rocky Mountain News

"Chilling. . . . Reminds us that our constitutional rights are fragile."
—Pittsburgh Post-Gazette

"Even readers who have followed the Bush administration's legalistic contortions...may be unnerved by Lichtblau's recounting of the human dramas behind the stories of laws broken and ignored."
—The New York Times Book Review

"Gripping.... At a time when the press's role in American democracy is being hotly contested, this book provides an inspiring example of reporters doing what they do best."
—The New York Times
Advertisement