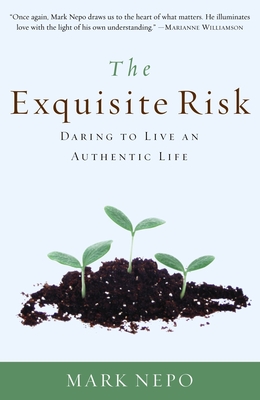 The Exquisite Risk (Paperback)
Daring to Live an Authentic Life
Harmony, 9780307335845, 304pp.
Publication Date: February 28, 2006
Other Editions of This Title:
Hardcover (2/1/2005)
* Individual store prices may vary.
Description
In these fast-paced times, the exquisite risk facing each of us every day is to slow down and "still our own house" so that we may experience life rather than simply manage it. In The Exquisite Risk, poet and teacher Mark Nepo encourages readers to become quiet enough and open enough to listen to what truly matters—our own hearts, our loved ones, the wonders of nature—in order to live a life with nothing held back. In rich, lyrical prose, Nepo shares his own spiritual path, including a battle with illness that helped him understand how only by daring to embrace all that life has to offer can we come to a deeper appreciation of its meaning and beauty.

In the spirit of works by Deepak Chopra and Ram Dass, The Exquisite Risk unfolds in chapters like "The Struggle to Be Real," "There Are Teachers Everywhere," "The Rhythm of Kindness," and "The Gift of Surprise," offering fresh perspective on the art of being alive and providing essential insight into how we can minimize what stands between us and our experience of life.


From the Hardcover edition.
About the Author
Mark Nepo, a member of Oprah's SuperSoul 100, is a poet and philosopher who has taught in the fields of poetry and spirituality for forty years. A New York Times #1 bestselling author, he has published fourteen books and recorded eight audio projects. Recent work includes Reduced to Joy (2013), Seven Thousand Ways to Listen (2012), and As Far As the Heart Can See (2011). Mark has appeared with Oprah Winfrey on her Super Soul Sunday program on OWN TV, and has also been interviewed by Robin Roberts on Good Morning America. His work has been translated into more than twenty languages. Please visit Mark at: www.MarkNepo.com and http://threeintentions.com.


From the Hardcover edition.
Praise For The Exquisite Risk: Daring to Live an Authentic Life…
"Once again, Mark Nepo draws us to the heart of what matters. He illuminates love with the light of his own understanding." —Marianne Williamson

"The Exquisite Risk is a celebration of an honest life, lived on purpose. Mark Nepo's words, like water on a stone, gently but firmly score a path for us to follow, a path that leads us into the place of remembering what a life is for; an invitation to tell the truth, remain close to the earth, and love well. What, more than this, can we ever ask of a book as our companion?" —Wayne Muller, author of Learning to Pray, Sabbath, and How, Then, Shall We Live?

"Every page of The Exquisite Risk is alive with Mark's compassion, rich with his soulfulness. If you are looking for one of those rare books that offer companionship on the journey, you will find none better than this." —Parker J. Palmer, author of A Hidden Wholeness, The Courage to Teach, and Let Your Life Speak

"An inspiration . . . The Exquisite Risk affirms that there are essentially two responses to life—a risky opening up to love and a controlling move into success and isolation. The direct reporting of Mark Nepo's epiphanies moves and flows in a wonderful sequencing of revelations that deepen and fill out as we read. . . . An exquisite gift."—Robert Inchausti, author of The Ignorant Perfection of Ordinary People


From the Hardcover edition.