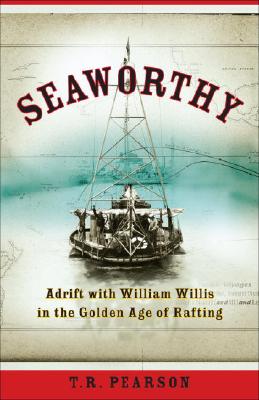 Seaworthy: Adrift with William Willis in the Golden Age of Rafting (Paperback)
Adrift with William Willis in the Golden Age of Rafting
Three Rivers Press (CA), 9780307335951, 280pp.
Publication Date: June 26, 2007
* Individual store prices may vary.
or
Not Currently Available for Direct Purchase
Description
Welcome to the daring, thrilling, and downright strange adventures of William Willis, one of the world's original extreme sportsmen. Driven by an unfettered appetite for personal challenge and a yen for the path of most resistance, Willis mounted a single-handed and wholly unlikely rescue in the jungles of French Guiana and then twice crossed the broad Pacific on rafts of his own design, with only housecats and a parrot for companionship. His first voyage, atop a ten-ton balsa monstrosity, was undertaken in 1954 when Willis was sixty. His second raft, having crossed eleven thousand miles from Peru, found the north shore of Australia shortly after Willis's seventieth birthday. A marvel of vigor and fitness, William Willis was a connoisseur of ordeal, all but orchestrating short rations, ship-wreck conditions, and crushing solitude on his trans-Pacific voyages.

He'd been inspired by Kon-Tiki, Thor Heyerdahl's bid to prove that a primitive raft could negotiate the open ocean. Willis's trips confirmed that a primitive man could as well. Willis survived on rye flour and seawater, sang to keep his spirits up, communicated with his wife via telepathy, suffered from bouts of temporary blindness, and eased the intermittent pain of a double hernia by looping a halyard around his ankles and dangling upside-down from his mast.

Rich with vivid detail and wry humor, Seaworthy is the story of a sailor you've probably never heard of but need to know. In an age when countless rafts were adrift on the waters of the world, their crews out to shore up one theory of ethno-migration or tear down another, Willis's challenges remained refreshingly personal. His methods were eccentric, his accomplishments little short of remarkable. Don't miss the chance to meet this singular monk of the sea.
About the Author
T. R. Pearson is the author of ten novels, including "Glad News of the Natural World," "A Short History of a Small Place," and "Blue Ridge." This is his first nonfiction book. "From the Hardcover edition."
Praise For Seaworthy: Adrift with William Willis in the Golden Age of Rafting…
"Seaworthy is an impressive achievement, powerful in drama and rich in detail in describing the rafting career of William Willis, a solitary sailor on the vast Pacific committed to proving himself under the most forbidding circumstances possible. His exploits were sometimes heartrending, sometimes ludicrous, and sometimes absurd, but Pearson's narrative, like his prose, never overreaches, never abandons a cool objectivity in relating incidents of heroism no less than those of a vainglorious eccentricity or appalling stupidity. Unfailingly wise, often funny, and always penetrating, Seaworthy is no less entertaining and always enjoyable." —W. T. Tyler, author of The Man Who Lost the War and The Consul's Wife
Advertisement