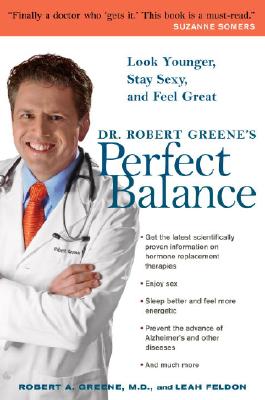 Dr. Robert Greene's Perfect Balance: Look Younger, Stay Sexy, and Feel Great (Paperback)
Look Younger, Stay Sexy, and Feel Great
Clarkson Potter, 9780307336200, 368pp.
Publication Date: May 2, 2006
* Individual store prices may vary.
or
Not Currently Available for Direct Purchase
Description
In this breakthrough book, world-renowned hormone specialist Dr. Robert Greene explores the connection between two of the least understood—and yet most important—physiological factors: hormones and the brain. In Perfect Balance, Dr. Greene presents a comprehensive program for reaching hormonal balance, including how to:

•craft a personalized hormone therapy program that's unique to your body and your symptoms

•avoid forgetfulness, moodiness, sexual dysfunction, and even the advance and progression of Alzheimer's disease

•understand the pros and cons of the latest cutting-edge hormone therapies

•establish your individual hormone profile, gauge your progress, and determine when and how to target lingering problems

•recognize "good" and "bad" estrogen—and how to balance the two types

•troubleshoot your symptoms, including migraines, hot flashes, sleeplessness, and depression

•implement the Perfect Balance Diet and Exercise Program, designed for optimal hormonal health

Dr. Greene explains that hormones play a role in every aspect of your health, from quality-of-life issues to the onset of certain diseases, and he shows how righting your hormonal balance can bring about sweeping improvements to your overall health. Sure to become a trusted resource, Perfect Balance is the most groundbreaking book on women's health in decades.
About the Author
Robert A. Greene, M.D. is one of the country's leading hormone specialists, a world-renowned brain researcher, and founder of Specialty Care for Women, a medical clinic in Redding, California, specializing in women's hormones. This is his first book.

Leah Feldon is a bestselling author, respected journalist, and cowriter of numerous health books, including the" New York Times" bestseller "The Okinawa Program" and its sequel, "The Okinawa Diet Plan." "From the Hardcover edition."
Praise For Dr. Robert Greene's Perfect Balance: Look Younger, Stay Sexy, and Feel Great…
"Finally a doctor who 'gets it.' This book is a must-read." —Suzanne Somers

"Dr. Greene's book tackles the complex interface between the brain and hormones and breaks down complicated subjects to the essential points. At the same time, this book is chock-full of pearls." —David Ko, MD, chief of neurology, Los Angeles County and University of Southern California Medical Center

"At a time when women are thoroughly confused about hormone therapy, this book is a beacon of light on the subject." —Pouru Bhiwandi, MD, FACOG, MSPH; adjunct professor of maternal and child health, University of North Carolina; international consultant in women's health

"Every doctor who takes care of women, and women of every age, need this book." —Ricki Pollycove, MD, MHS; fellow of the American College of Ob-Gyn

"Perfect Balance is a remarkable achievement and a breakthrough in thinking and medical practice." —David Feldman, MD, associate clinical professor of obstetrics and gynecology, University of California, San Francisco–Fresno

"This book is sure to be a guiding light for women everywhere." —Dr. Jeanne Leventhal Alexander, founder and president of the Alexander Foundation for Women's Health
Advertisement