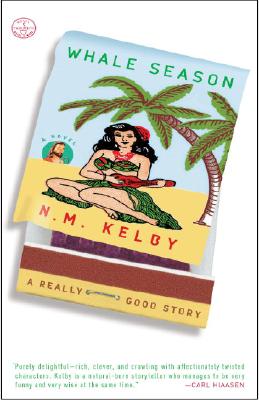 Whale Season
Paperback

* Individual store prices may vary.
Other Editions of This Title:
Digital Audiobook (1/16/2006)
Description
One Christmas Eve, Whale Harbor is visited by a man who thinks he's Jesus and claims to be looking for a game of poker. But, as usual, things are not quite what they seem. Having some version of the Lord in town for his birthday creates a strange effect on the locals: unlikely couples are breaking up and making up and making out; a luxury mobile home that belonged to an elderly couple from New Jersey (until they disappeared after a run-in with the Lord ) is won by a down-on-his-luck gambler in an unbelievable hand of poker; the area's most well-known and long-forgotten tourist attraction is rising up from a hole in the ground; and a gun no one has used in years is suddenly in hot demand. In the steamy climes of southern Florida, you take your miracles where you can get them and if that means being led to salvation by a schizophrenic with a rap sheet, so be it.
In the rollicking tradition of Carl Hiaasen's
Tourist Season
, with the heart of Garrison Keillor's
Lake Wobegon
, and peopled by the kind of colorful characters who would be quite at home in any Tom Robbins novel, N. M. Kelby's
Whale Season
is a sharp and funny novel made up of equal parts comic adventure and serial-killer inspired mayhem.
From the Hardcover edition.
Praise For Whale Season…
Praise for Whale Season

"Whale Season is purely delightful—rich, clever, and crawling with affectionately twisted characters. Nicole Kelby is a natural-born storyteller who manages to be very funny and very wise at the same time." —Carl Hiaasen

"Kelby has created a crazy-quilt of unforgettable characters. You won't find whales in Whale Harbor but you will find ancient bluesmen, alligators in Minnie Pearl hats, sexy strip club owners with dreams of franchising, floundering RV salesmen, and the wackiest serial killer in modern fiction. Strap yourself in, it's one helluva ride." —J. A. Konrath, author of Bloody Mary

"Poignant, hilarious, and melancholy, N. M. Kelby's strikingly entertaining novel feels like being on a theme park ride with Carl Hiaasen as tour guide. This is the real deal." —Will Staeger, bestselling author of Painkiller

Praise for N. M. Kelby's Previous Work

"Kelby's lovely language fuses sensuous specificity with metaphoric resonance. . . . To paraphrase and summarize such fine-spun fiction must inevitably be as inadequate as any attempt to retell your most amazing dream the morning after." —New York Times Book Review

"Luscious and heartrending . . . overflows with miracles." —Atlantic Monthly
Three Rivers Press (CA), 9780307336781, 308pp.
Publication Date: November 14, 2006
About the Author
N. M. Kelby spent twenty years as a print and television journalist before she began writing novels. She lives in Sarasota, Florida. From the Hardcover edition.
or
Not Currently Available for Direct Purchase