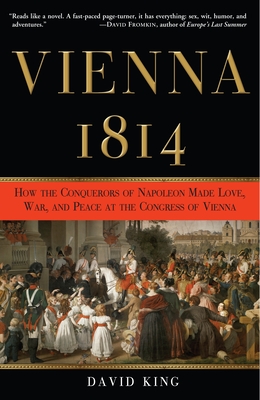 Vienna, 1814
How the Conquerors of Napoleon Made Love, War, and Peace at the Congress of Vienna
Paperback

* Individual store prices may vary.
Other Editions of This Title:
Digital Audiobook (3/14/2008)
Compact Disc (3/15/2008)
MP3 CD (3/15/2008)
Description
"Reads like a novel. A fast-paced page-turner, it has everything: sex, wit, humor, and adventures. But it is an impressively researched and important story."
—David Fromkin, author of Europe's Last Summer


Vienna, 1814 is an evocative and brilliantly researched account of the most audacious and extravagant peace conference in modern European history. With the feared Napoleon Bonaparte presumably defeated and exiled to the small island of Elba, heads of some 216 states gathered in Vienna to begin piecing together the ruins of his toppled empire. Major questions loomed: What would be done with France? How were the newly liberated territories to be divided? What type of restitution would be offered to families of the deceased? But this unprecedented gathering of kings, dignitaries, and diplomatic leaders unfurled a seemingly endless stream of personal vendettas, long-simmering feuds, and romantic entanglements that threatened to undermine the crucial work at hand, even as their hard-fought policy decisions shaped the destiny of Europe and led to the longest sustained peace the continent would ever see.

Beyond the diplomatic wrangling, however, the Congress of Vienna served as a backdrop for the most spectacular Vanity Fair of its time. Highlighted by such celebrated figures as the elegant but incredibly vain Prince Metternich of Austria, the unflappable and devious Prince Talleyrand of France, and the volatile Tsar Alexander of Russia, as well as appearances by Ludwig van Beethoven and Emilia Bigottini, the sheer star power of the Vienna congress outshone nearly everything else in the public eye.

An early incarnation of the cult of celebrity, the congress devolved into a series of debauched parties that continually delayed the progress of peace, until word arrived that Napoleon had escaped, abruptly halting the revelry and shrouding the continent in panic once again.

Vienna, 1814 beautifully illuminates the intricate social and political intrigue of this history-defining congress–a glorified party that seemingly valued frivolity over substance but nonetheless managed to drastically reconfigure Europe's balance of power and usher in the modern age.
Praise For Vienna, 1814: How the Conquerors of Napoleon Made Love, War, and Peace at the Congress of Vienna…
"King reveals his talent for narrative flow and portraiture in a biography that will thoroughly inveigle history readers."
—Booklist

"A teeming…personality-rich panorama of the first truly international peace conference."
—Kirkus Reviews

"A fascinating tale that shines light on a unique aspect of the relationship between scholarship and nationalism."
—Choice

"It would have been more fun to attend the Congress of Vienna than any other political assembly in history. Next best is to immerse yourself in David King's Vienna 1814, which reads like a novel. A fast-paced page-turner, it has everything: sex, wit, humor, and adventures. But it is an impressively-researched and important story that it tells. There was much frivolousness in the Vienna congress, but it did bring peace to Europe and shape the 19th century; and while the deliberations of the Vienna statesmen took place, the fate of the world hung in the balance."
—David Fromkin, author of Europe's Last Summer

"Deftly paced and engagingly written."
—Publishers Weekly

"King does a superb job of evoking the bedazzling social scene that served as the backdrop to the Congress of Vienna. This is a worthy contribution to the study of a critical historical event long neglected by historians. It should be in every European history collection."
—Library Journal, starred review
Crown, 9780307337177, 464pp.
Publication Date: March 24, 2009
About the Author
A Fulbright scholar with a master's degree from Cambridge University, DAVID KING is the author of the acclaimed Finding Atlantis. He lives in Lexington, Kentucky, with his wife and children.
or
Not Currently Available for Direct Purchase