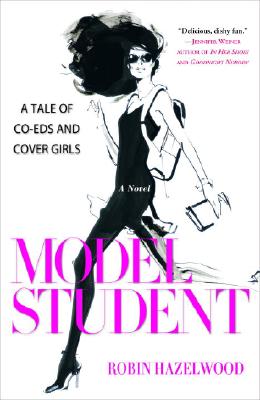 Model Student: A Tale of Co-Eds and Cover Girls (Paperback)
A Tale of Co-Eds and Cover Girls
Three Rivers Press (CA), 9780307337191, 390pp.
Publication Date: February 27, 2007
* Individual store prices may vary.
or
Not Currently Available for Direct Purchase
Description
It's the late 1980s hair is big, Lycra is rampant, and supermodels rule the earth. Every girl in America dreams of becoming the next Cindy, Claudia, or Naomi, and seventeen-year-old Emily Woods is no different. She looks different, though striking enough to start a career. Despite the protestations of her hippie parents, she plunges into the glamorous but grueling world of professional modeling. But Emily is more than just a small-town beauty with stars in her eyes: She's been accepted to Columbia University, and she's not about to let couture and klieg lights get in the way of an Ivy League education.
Thus begins Emily's double life: cramming for a final at an exotic swimsuit shoot in the Caribbean; fighting the freshman fifteen to avoid the wrath of her agent; owning a closet full of Versace but nothing to wear to a frat party; sitting in a women's studies class while ads featuring girls she knows are picked apart; juggling the attention of both college guys and the sought-after fashion photographer of the moment.
But as Emily pursues her chic fantasy of
Vogue
covers and prestigious cosmetic campaigns, her priorities start to shift. In the ultra-competitive quest for supermodel fame and fortune, strutting off the runway to study Shakespeare might mean letting another pretty face snag her stilettos, and Emily's thisclose to getting a leg up on her dreams.
Before long, the seamier side of the fashion industry cocaine and cads, collagen and implants, fad diets and eating disorders becomes close up and personal. All of a sudden, Emily realizes how far she's strayed from her dream of having it all. With sliding grades that threaten her future at Columbia and spotty bookings that put her career as a model in question, Emily is finally forced to make a choice between style and substance.
Dazzling, dramatic, and as real as it gets,
Model Student
shines a spotlight behind the scenes and reminds us why you can t judge a book by its cover girl.
From the Hardcover edition.
About the Author
Robin Hazelwood, a graduate of Yale, was a professional model in New York, Paris, London, and Milan throughout the 1980s and 1990s. This is her first book. From the Hardcover edition.
Praise For Model Student: A Tale of Co-Eds and Cover Girls…
"A true insider's look at the fascinating world of modeling." —Booklist

"Young Emily becomes an engaging protagonist, as her intelligence and thoughtfulness make the supreme superficiality of the fashion world palatable. Hazelwood's sharp writing provides a glimpse into a glamorous world, but stays grounded by using college life as a foil to the fashionistas. Her real-life experience as model in the '80s and '90s—the era that brought us those larger-than-life supermodels Cindy Crawford and Naomi Campbell—gives her an insider edge that lends credibility to events that would be otherwise unbelievable." —Bookpage

"Delicious, dishy fun." —Jennifer Weiner, author of In Her Shoes and Goodnight Nobody

"If you want to know what it's really like to be a model, look no further. Robin Hazelwood perfectly captures the struggles, the successes, and the excesses of a crazed, camera-ready culture." —Patrick McMullan, photographer and author of Kiss Kiss, InTents, and So80s

"Fresh, funny, biting, and a little wistful, too, Model Student offers an irresistible insider's tour of big-time modeling, from the alluring to the appalling to the nitty-gritty. Best of all is guide Emily Woods, a winning combination of pluck, vulnerability, and snappy wit." —Christina Schwarz, author of Drowning Ruth and All Is Vanity

"If you can imagine The Devil Wears Prada meets I Am Charlotte Simmons, this is it. I was thoroughly entertained." —Karen Quinn, author of The Ivy Chronicles

"Big dreams—and even bigger hair—go hand in hand in this delicious insider take on the bitchy world of late '80s modeling." —Lucinda Rosenfeld, author of What She Saw . . .and Why She Went Home
Advertisement