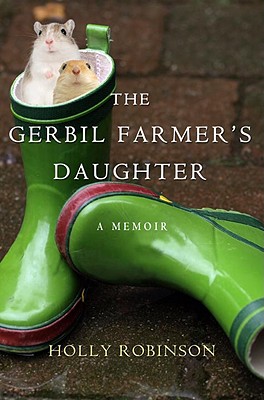 The Gerbil Farmer's Daughter (Hardcover)
A Memoir
Crown, 9780307337450, 304pp.
Publication Date: May 26, 2009
Other Editions of This Title:
Paperback (6/29/2010)
* Individual store prices may vary.
Description
"What kind of Navy officer sits on his ship in the middle of the Mediterranean dreaming of gerbils?"

That's the question that Holly Robinson sets out to answer in this warm and rollicking memoir of life with her father, the world's most famous gerbil czar.

Starting with a few pairs of gerbils housed for curiosity's sake in the family's garage, Donald Robinson's obsession with the "pocket kangaroo" developed into a lifelong passion and second career. Soon the Annapolis-trained Navy commander was breeding gerbils and writing about them for publications ranging from the ever-bouncy Highlights for Children to the erudite Science News. To support his burgeoning business, the family eventually settled on a remote hundred-acre farm with horses, sheep, pygmy goats, peacocks–and nearly nine thousand gerbils.

From part-time model for her father's bestselling pet book, How to Raise and Train Pet Gerbils, to full-time employee in the gerbil empire's complex of prefab Sears buildings, Holly was an enthusiastic if often exasperated companion on her father's quest to breed the perfect gerbil. Told with heart, humor, and affection, The Gerbil Farmer's Daughter is Holly's ode to a weird and wonderful upbringing and her truly one-of-a-kind father.
About the Author
HOLLY ROBINSON, an award-winning writer, has been a contributing editor to" Ladies' Home Journal" and "Parents," and her work has appeared in the "Boston Globe, Good Housekeeping, " and "More," among other publications. She lives in northern Massachusetts with her husband and their five children.
Praise For The Gerbil Farmer's Daughter: A Memoir…
"Wacky and tender, The Gerbil Farmer's Daughter is as much a social history of the '60s as an intensely personal family memoir.  Holly Robinson handles the heavy issues of longing and belonging with wonderful honesty and a light touch."
–Stewart O'Nan, author of Songs for the Missing

"Journalist Robinson cheerfully recalls growing up with a closeted gerbil-breeder....It's a scenario that could have been lifted from a 1960s sitcom, but Robinson invests the narrative with pathos, good-natured moments of absurdity and plenty of keen humor....Daffy yet sweet and affecting."
–Kirkus Reviews

"Robinson writes with humor and honesty, creating a charming story, a reminder of how all the love and care in the world may not be enough, and a moving tribute to a father who, nonetheless, never stopped trying."
–Booklist

"Robinson...wryly narrates this memoir about growing up with a stern navy father who abruptly takes up breeding the then little-known gerbil in the late 1960s....interspers[ing] her compelling narrative with accounts of gerbil mayhem."
–Publishers Weekly

"A delightful memoir about an unusual childhood, complete with a cast of characters led by an eccentric, forward-thinking father and his incredulous, rebellious kids. Think Cheaper by the Dozen--but with cute, furry rodents thrown in. I loved it!"
–Sandi Shelton, author of A Piece of Normal and What Comes After Crazy

"What a delightful, delicious coming-of-age story–filled with a cast of enchanting, eccentric, utterly memorable characters, and with what is most endearing: the author's affection for them.  This is an engrossing tale of family life, and of the extraordinary menagerie that lies at the heart of their adventures.  It is as if E. B. White, Gerald Durrell, and Calvin Trillin had conspired to write the funniest, most charming and unlikely of tales.  Holly Robinson's touch is sure, deft, and loving–and The Gerbil Farmer's Daughter is a magical tale that will enthrall children–and readers–of all ages."
 –Jay Neugeboren, author of Imagining Robert and The Stolen Jew

"What does one military man do when he retires from commanding a ship? Why not build the world's largest gerbil farm? Holly Robinson's memoir vividly tells of her life growing up in a military family, and of her teenage years as one of the 'employees' in her dad's oddly successful, sometimes exasperating, often humorous livestock venture."
 –Douglas Whynott, author of Following the Bloom and A Country Practice
 
"Holly Robinson reveals a fascinating, untold chapter in the history of the Mongolian gerbil in the United State as she brings us back to a time before play dates, bike helmets, or other adult meddling in private childhood affairs and tells with vivid clarity of growing up in America in the 60s - 70s, all the while struggling to hide a terrible family secret–the barns in the backyard house 9000 gerbils."
–Donna Anastasi, President of the American Gerbil Society and author of The Complete Guide to Gerbil Care

"In the long parade of memoirs American readers have seen in recent years, have you noticed how few make you laugh out loud?  Holly Robinson's book made me laugh so many times my cheeks were a little sore.  Her portrait of a little-explored and often-comic landscape, along with the sure and funny narrative voice which is our tour-guide through family, gerbils, and love, is one of the best memoirs around.  And her prose is sparkling, very particular, and always vivid."
–Susan Straight, National Book Award finalist and author of A Million Nightingales and Highwire Moon

"As improbable as it was that Holly Robinson's crisp and buttoned down Navy Commander of a dad would give it all up for the dream of becoming a gerbil guru, it is not at all surprising that his daughter would craft a memoir that captures his odd and sometimes embarrassing passion so well. Her spirited account is equal parts quirky, funny, heartwarming, and even heartbreaking."
–Madeleine Blais, author of Uphill Walkers: A Memoir of a Family
or
Not Currently Available for Direct Purchase