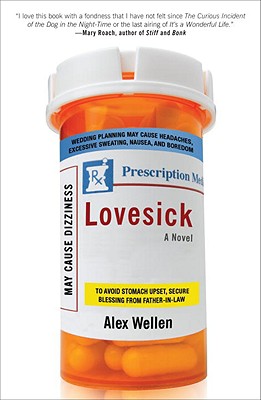 Lovesick (Paperback)
Three Rivers Press (CA), 9780307337955, 308pp.
Publication Date: July 7, 2009
* Individual store prices may vary.
Description
For Andy Altman it was love at first sight. Halloween, 1983: She was Princess Leia; he was Chewbacca. Determined to be more than star-crossed lovers, Andy vowed to do whatever it took to make Paige Day his bride, even if that meant dragging himself back to the small town of Crockett, California, and working for her father, Gregory, the local pharmacist and most demanding boss east of San Francisco.
Day's Pharmacy is tight quarters, and for Andy and Gregory, the mixture is explosive. Unable to win Gregory over, Andy devises a surefire scheme to secure his blessing to marry Paige. But what Andy doesn t realize is that the only way he ll make it to the altar is if he protects his future father-in-law's big secret. In so doing, he ll have to fend off financial ruin, Paige's aggressive ex-boyfriend, and an intimidating crime ring of geriatric gangsters. For young Andy, charting the path to true love will take sheer ingenuity.
About the Author
ALEX WELLEN is a writer, inventor, and Emmy Award winning television producer for CNN who lives in Washington, D.C., with his wife and son. He is the author of the critically acclaimed memoir Barman. This is his first novel."
Praise For Lovesick…
"A delightful romantic comedy with unexpected humor and a wacky cast of supporting characters."
—The Washington Post

"Alex Wellen's engagement story is such a doozy, he lifted it frame by frame for his romantic, laugh-out-loud-funny first novel, Lovesick."
—San Francisco Chronicle

"Pulling back the curtain on what men really think about getting married."
—Gwyneth Paltrow's GOOP.com

"A screwball comedy about small-town love."
—The Daily Beast

"In his new book, Lovesick, CNN deputy political director Alex Wellen offers a new twist on the concept that only women want to get married."
—The Hill

"In the book Lovesick, Alex Wellen has created a character who steals our hearts from the first page. Andy just wants to marry the love of his life, Paige, but first he has to overcome the overt hostility of her father–who happens to be his boss–and the skulduggery of a group of geriatric goof balls."
—The Piedmont Virginian

"I love this book with a fondness that I have not felt since The Curious Incident of the Dog in the Night-Time or the last airing of 'It's a Wonderful Life.'   It's warm and funny and true, and I did not want it to end."
—Mary Roach, author of Stiff and Bonk

"Packed into this inventive, hilarious tale of small-town domestic realism is a parable for our times."
—Po Bronson, #1 New York Times bestselling author

"Lovesick is a fresh, funny look at the rocky road to real love and a happy marriage.  Andy Altman is an ordinary-guy hero with extraordinary heart and the story Alex Wellen creates around him is as touching as it is entertaining.  As for Andy' s best pal, 83-year-old Sid — don't get me started!!  He's the kind of character that jumps off the page and sticks with you for a long, long time.  Read Lovesick.  You'll feel better about everything!!"
—Larry King, host of CNN's Larry King Live

"Alex Wellen has created memorable characters with emotional honesty, depth, and a great sense of humor. Andy and Paige will leave readers feeling simultaneously conflicted by their choices and warmed by the authenticity of a relationship that began when they were children. Lovesick is a must-read for anyone who believes that love conquers all, even when everything seems to stand in the way."
—Rosalind Wiseman, author of Queen Bees and Wannabes, the basis for the film, Mean Girls

"A humorous look at the adventurous transition from engagement to marriage."
- National Law Journal
or
Not Currently Available for Direct Purchase