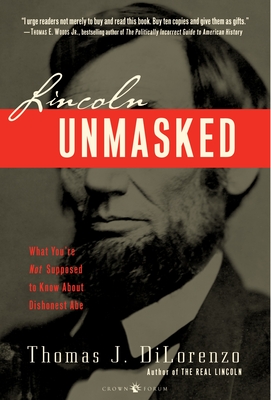 Lincoln Unmasked (Paperback)
What You're Not Supposed to Know about Dishonest Abe
Crown Forum, 9780307338426, 223pp.
Publication Date: November 27, 2007
* Individual store prices may vary.
Description
What if you were told that the revered leader Abraham Lincoln was actually a political tyrant who stifled his opponents by suppressing their civil rights? What if you learned that the man so affectionately referred to as the "Great Emancipator" supported white supremacy and pledged not to interfere with slavery in the South? Would you suddenly start to question everything you thought you knew about Lincoln and his presidency? You should. Thomas J. DiLorenzo, who ignited a fierce debate about Lincoln's legacy with his book The Real Lincoln, now presents a litany of stunning new revelations that explode the most enduring (and pernicious) myths about our sixteenth president. Marshaling an astonishing amount of new evidence, Lincoln Unmasked offers an alarming portrait of a political manipulator and opportunist who bears little resemblance to the heroic, stoic, and principled figure of mainstream history. Did you know that Lincoln . . . - did NOT save the union? In fact, Lincoln did more than any other individual to destroy the voluntary union the Founding Fathers recognized. - did NOT want to free the slaves? Lincoln, who did not believe in equality of the races, wanted the Constitution to make slavery "irrevocable." - was NOT a champion of the Constitution? Contrary to his high-minded rhetoric, Lincoln repeatedly trampled on the Constitution--and even issued an arrest warrant for the chief justice of the United States - was NOT a great statesman? Lincoln was actually a warmonger who manipulated his own people into a civil war. - did NOT utter many of his most admired quotations? DiLorenzo exposes a legion of statements that have been falsely attributed to Lincoln for generations--usually to enhance his image. In addition to detailing Lincoln's offenses against the principles of freedom, equality, and states' rights, Lincoln Unmasked exposes the vast network of academics, historians, politicians, and other "gatekeepers" who have sanitized his true beliefs and willfully distorted his legacy. DiLorenzo reveals how the deification of Lincoln reflects a not-so-hidden agenda to expand the size and scope of the American state far beyond what the Founding Fathers envisioned--an expansion that Lincoln himself began. The hagiographers have shaped Lincoln's image to the point that it has become more fiction than fact. With Lincoln Unmasked, DiLorenzo shows us an Abraham Lincoln without the rhetoric, lies, and political bias that have clouded a disastrous president's enduring damage to the nation. From the Hardcover edition.
About the Author
Thomas J. DiLorenzo is the author of The Real Lincoln and How Capitalism Saved America. A professor of economics at Loyola College in Maryland and a senior fellow at the Ludwig von Mises Institute, he has written for the Wall Street Journal, USA Today, the Washington Post, Reader's Digest, Barron's, and many other publications. He lives in Baltimore, Maryland. From the Hardcover edition.
Praise For Lincoln Unmasked: What You're Not Supposed to Know about Dishonest Abe…
"Lincoln Unmasked is a masterpiece response to the crowd that DiLorenzo calls the Lincoln cult. He names names, and names places, in what is a fascinating read and correction to one of the most important episodes in U.S. history." —Walter E. Williams, nationally syndicated columnist and John M. Olin Professor of Economics at George Mason University

"Abe, climb down from Mt. Rushmore, and vacate the penny. Your days in the pantheon are over, thanks to the scholarship and courage of Thomas J. DiLorenzo." —Llewellyn H. Rockwell, Jr., president of the Ludwig von Mises Institute

"In The Real Lincoln, Professor DiLorenzo convincingly exposed Lincoln idolatry as a fraud that has poisoned America's understanding of itself. Following up in Lincoln Unmasked, he shows who maintains and profits from the toxin in the body politic and the damage that they are doing to us to this very day. DiLorenzo's masterful diagnosis, we may hope, will go a long way toward a cure." —Clyde Wilson, Distinguished Professor Emeritus of History, University of South Carolina

"Lincoln Unmasked is a masterful book. Finally, Lincoln has been held to account and the lies and machinations of the Lincoln cult exposed." —Paul Craig Roberts, syndicated columnist and former Assistant Secretary of the U.S. Treasury

"Brilliant and withering, Lincoln Unmasked answers the kind of forbidden questions that our country now more than ever needs to hear. Thomas DiLorenzo deals in the kind of information that is consistently withheld from students in what we laughingly call our educational system." —Thomas E. Woods, Jr., bestselling author of The Politically Incorrect Guide to American History