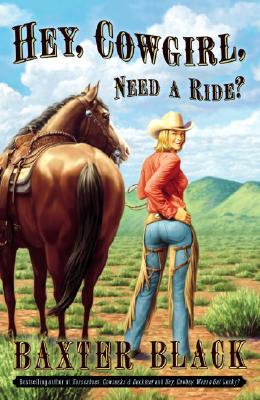 Hey, Cowgirl, Need a Ride? (Paperback)
Three Rivers Press (CA), 9780307338549, 308pp.
Publication Date: October 24, 2006
Description
From America's bestselling cowboy poet and NPR commentator Baxter Black comes the sequel to Hey, Cowboy, Wanna Get Lucky?
Two years after he won the average at the Las Vegas National Finals Rodeo by riding Kamikaze, the world's most unridable bull, Lick is down on his luck, working on a ranch in the remote Nevada desert with Al Bean, an ornery old cowboy. When Teddie Arizona, woman of mystery, crawls out of the wreckage of her plane and into their lives with a $5,000,000 secret, things start to get interesting.
When T.A.'s husband, F. Rank Pantaker, dispatches his henchmen to retrieve the money and the girl Lick and Al find themselves trying to outrun the bad guys and protect a damsel in distress. Is T.A. out to cheat her cheatin husband, or is she really just trying to stop an illegal scheme cooked up by F. Rank and the infamous Ponce de Crayon, Vegas's most glamorous tiger tamer? Is she playing Lick or is it love?
Will Al Bean's cockeyed plan, an able assist from Cody, Lick's cowboy sidekick, a brigade of old-time rodeo reunioneers, and twenty miles of duct tape be enough to stop F. Rank's nefarious schemes, reform a career party girl, and change the hearts and minds of ten of the world's most thrill-seeking billionaires? Can Cody keep Lick from climbing onto raging bull Kamikaze's back one more time? Can true love triumph over shoot-outs at the not-so-okay corral and close encounters with white tigers? Hey, this is Baxter Black what do you think?
With its colorful cast of characters, rip-roaring humor, and inventive language, this caper will have you riding high long after it gallops to a thunderously satisfying conclusion.
About the Author
Baxter Black is an irregular commentator on NPR. He writes a weekly column, which currently appears in more than 150 publications. He lives in Arizona.
Praise For Hey, Cowgirl, Need a Ride?…
Praise for Baxter Black

"He could make a dead man sit up and laugh." —Washington Post Book World

"Humorist and poet of the ranch and the barnyard, Baxter Black has variously been dubbed a latter-day Will Rogers, the dean of cowboy bards, and the Art Buchwald of the Stetson-and-Levi's crowd." —The Christian Science Monitor

"Baxter Black is Mark Twain served up with a little Groucho Marx." —The Weekly Standard

"If you like folksy and smart, earthy and sentimental, Black's your man, and if you like cowboy poetry, no one does it better." —Chicago Booklist

"Bax is a great writer . . . a voice from out there that needs to be heard." —Bob Edwards, XM Public Radio

"He sees things nobody else sees. He has an imagination that is unparalleled." —Associated Press
Advertisement