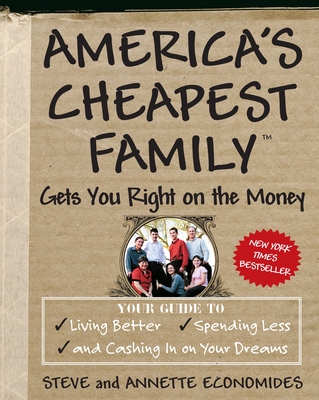 America's Cheapest Family Gets You Right on the Money
Your Guide to Living Better, Spending Less, and Cashing in on Your Dreams
Paperback

* Individual store prices may vary.
Description
Do you have too much month at the end of your money? Is your credit card screaming for relief? Are you tired of robbing Peter to pay Paul . . . whoever they are?

Meet Steve and Annette Economides. They've been called cheapskates, thriftaholics, and tightwads, but in these tough economic times, Steve and Annette have managed to feed their family of seven on just $350 per month, pay off their first house in nine years and purchase a second, larger home, buy cars with cash, take wonderful vacations, and put money in savings. Without degrees in finance or six-figure salaries, Steve and Annette have created a comfortable, debt-free life for themselves and their children. In America's Cheapest Family Gets You Right on the Money, they show you how they did it- and how you can do it too.

Steve and Annette share many down-to-earth principles and the simple spending plan that they have used since 1982. They have taught this economizing lifestyle to thousands of people worldwide through seminars and their newsletter, and they include lots of real-life stories to make you feel as if you're having your own private coaching session. Not only will you find solutions to your financial dilemmas, you'll also discover a whole new way of life.

You don't need to be a CPA or a math wizard to learn their revolutionary system, which will teach you:

- hundreds of ways to save money on everyday household expenses, including groceries, clothing, and health care
- how to save in advance for major purchases such as homes, cars, and vacations
- how to stop living paycheck to paycheck
- how to eliminate debt . . . forever!

America's Cheapest Family Gets You Right on the Money puts meeting your financial goals- and living well at the same time- in reach for every family.
Praise For America's Cheapest Family Gets You Right on the Money: Your Guide to Living Better, Spending Less, and Cashing in on Your Dreams…
"Of all the how-to-do-it books ever written, the best and most constructively useful are the Bible, Voltaire's Candide- and this one. The time is right, right now, for somebody to give us all a top sergeant lesson in practical economics: 'There is no free lunch.' Congratulations, Annette and Steve Economides: I pray your readers will practice what you teach."
- PAUL HARVEY, legendary American radio broadcaster and host of The Rest of the Story on the ABC Radio Network

"If your family is struggling with debt or you find yourself spending more money than you can legitimately afford, pick up and READ this book today! Implement the strategies you find and enjoy a lifetime free of financial anxiety!"
- Glinda Bridgforth, financial coach, Oprah Debt Diet consultant, and bestselling author of Girl, Make Your Money Grow! and Girl, Get Your Credit Straight!
Currency, 9780307339454, 288pp.
Publication Date: January 16, 2007
About the Author
Steve and Annette Economides launched their popular bimonthly newsletter, The HomeEconomiser, in 2003. They are frequently quoted money-saving experts and have appeared in Good Housekeeping as well as on National Public Radio and Good Morning America. They live in Scottsdale, Arizona, with their children.
or
Not Currently Available for Direct Purchase