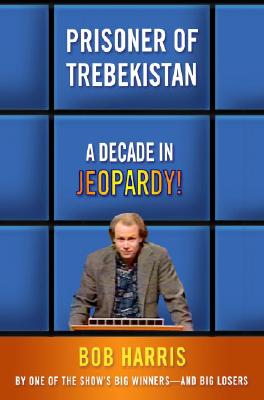 Prisoner of Trebekistan (Hardcover)
A Decade in Jeopardy!
Crown, 9780307339560, 352pp.
Publication Date: September 5, 2006
* Individual store prices may vary.
Description
A.: This is the story of a working-class guy from Ohio with little real knowledge of Ambidextrous Presidents, Things Made from Rubber, and hundreds of other categories, but who nonetheless plunges so far into cramming for Jeopardy! that it changes his relationships, bends his worldview, and literally leads him to the ends of the earth, trying to understand it all.

Q.: What is Prisoner of Trebekistan?

Welcome to a world where obscure information is crucial to survival, vast sums of cash are at stake, and milliseconds can change not just a game but the course of your entire life. (Plus, you could win two Camaros and enough Bon Ami cleanser to scrub a small nation.)

Prisoner of Trebekistan is Bob Harris's hilarious, insightful account of one man's unlikely epic journey through Jeopardy!, gleefully exploring triumph and failure, the nature of memory, and how knowledge itself can transform you in unpredictable ways—all against the backdrop of the most popular quiz show in history.

In Prisoner of Trebekistan, Bob chronicles his transformation from a struggling stand-up comic who repeatedly fails the Jeopardy! audition test into an elite player competing against the show's most powerful brains. To get there, he embarks on a series of intense study sessions, using his sense of humor to transform conventional memory skills into a refreshingly playful approach to learning that's as amusing as it is powerful.

What follows is not only a captivating series of high-stakes wins and losses on Jeopardy!, but also a growing appreciation of a borderless world that Bob calls Trebekistan, where a love of learning reigns and the smarter you get the more you realize how much you don't yet know.

Filled with secrets that only a veteran contestant could share—from counterintuitive game strategies to Jedi-like tactics with the Jeopardy! signaling device—Prisoner of Trebekistan also gives you the chance to play along with the actual clues that led to victory or defeat in high-level tournaments, plus candid, moving reflections on how the games affected Bob's offstage life—and vice versa.

Not only an irresistible treat for Jeopardy! fans, Prisoner of Trebekistan is a delight for anyone who loves a rollicking tale that celebrates the unpredictability of life and the sneaky way it has of teaching us the things that really matter.
About the Author
Bob Harris has written for "National Lampoon," "Mother Jones" online, and the television drama "CSI: Crime Scene Investigation." In addition to being an undefeated five-time "Jeopardy!" champion, he reached the finals of the annual $100,000 Tournament of Champions before losing so absurdly that the final episode was shown on airlines as in-flight entertainment. In 2002, Harris was one of only fifteen players invited to compete in a Million-Dollar Masters Tournament held at Radio City Music Hall. More recently, he was a memorable part of the 2005 "Jeopardy! "Ultimate Tournament of Champions. He lives in Los Angeles.
Praise For Prisoner of Trebekistan: A Decade in Jeopardy!…
"Harris has been, among other things, a stand-up comic, and it shows...lively phrases and an ear for the incongruous...a skilled storeyteller...pulls you in like a good sports stroy."
– The New Yotk Times Book Review

"A rollicking ride of intellectual discovery and emotional growth. He provokes much laughter- unlike his buzzer skills, his comic timing never fails him- and a few unexpected tears...it's a pleasure to tage along."
– The Wall Street Journal

"Endearingly frank...a jubilant Mexican jumping bean of digressions and asides...Everything in Harris's memoir is lighthearted and fast-paced."
– New York Newsday

"Down to earth and entertaining, even for non-Jeopardy! fans."
– The New York Daily News

"A surprisingly touching memoir."
– Entertainment Weekly

"Eccentric, energetic, and engaging...charming."
– Publishers Weekly

"Cleverly executed...solid entertainment."
– Kirkus Reviews

"I haven't seen Jeopardy! since I was a kid, and yet I was charmed and amused by Bob Harris's fascinating and surprisingly suspenseful book. Through sheer force of personality, he takes this brainy TV show and makes it funny and easy to relate to."
– Ira Glass, creator and host, This American Life

"Wise, honest, and very funny...I wish I'd written it. Then again, I wish I'd won $127,000 and his & her Camaros, on Jeopardy!, too."
– Jeff Greenstein, writer/producer, Desperate Housewives, Will & Grace, Friends

"Answer: A hilarious, engaging and highly entertaining book. Question is: What is Prisoner of Trebekistan? (All right ... that was sort of a lame Jeopardy! joke. But what can I say? It's a great book.)"
—Paul Feig, creator of Freaks and Geeks and author of Superstud and Kick Me

"Prisoner of Trebekistan is funny, enlightening—and just might help you win a million bucks on Jeopardy!"
—A.J. Jacobs, author of The Know-It-All

"Prisoner of Trebekistan is so effortlessly funny and informative, the fact that it's also tender, human, and very wise kind of sneaks up on you. . . . Amidst the nerve-wracking Jeopardy! showdowns and hilarious study rituals, Bob Harris has found the difference between facts and knowledge, between knowledge and wisdom, proving conclusively that the answer to the meaning of life may very well take the form of a question. A must for anyone who loves Jeopardy!, or has ever seen it, or is breathing."
—Joss Whedon, creator, Buffy the Vampire Slayer

"If you don't buy this book—this funny, learned, charming, and surprisingly moving book—I will make it burst into flames in your hands."
—Arthur Phillips, author of Prague and The Egyptologist

"Bob Harris does a masterful job of describing the emotional state of a Jeopardy! contestant in the heat of battle. Even more impressively, Prisoner of Trebekistan captures the inquisitive spirit that is both the cause and effect of success on the show. I knew that Bob was a great guy and a fantastic Jeopardy! player. Now I've found that he's also a wonderful writer. I think I'm starting to hate him."
—Brad Rutter, top money-winner in Jeopardy! history (more than $3.2 million)
or
Not Currently Available for Direct Purchase