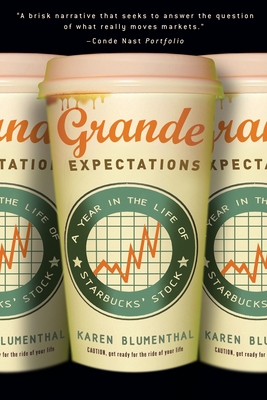 Grande Expectations (Paperback)
A Year in the Life of Starbucks' Stock
Crown Business, 9780307339720, 320pp.
Publication Date: September 30, 2008
* Individual store prices may vary.
Description
Karen Blumenthal, like most people, is mystified by the stock market. Just why is it, she wonders, that seemingly good news can send a stock plummeting and bad news can send it skyrocketing again?

In Grande Expectations, she shows how money is made and lost by following one of America's hottest growth stocks, Starbucks, through a year of rapid store openings, fancy new drinks, and clever promotions, revealing how the many players—big and small investors, company management, analysts, and the media—propel its shares up and down.

Blumenthal pulls back the curtain on the stock market to expose its quirks and inner workings, from the power of a penny of earnings and the unexpected impact of a stock split to the image-enhancing effects of a brand of bottled water. With a fly-on-the-wall, character-driven narrative, Grande Expectations not only makes investing interesting but also will help you make smarter and savvier investing choices by:

•Understanding how big pension and mutual fund managers decide whether to buy more Starbucks—or dump it

•Seeing the unique ways that analysts and other finance professionals assess an investment—dissecting not only the numbers but also the company's management, demographics, and global opportunities

•Learning how Starbucks executives manage our expectations and keep excitement percolating about the business—and the stock

•Watching how a stock is traded and how that might affect your buying or selling

•Gleaning how multibillion-dollar private hedge funds make money on infinitesimal changes in a stock's price

•Entering the dark, strange world of the short sellers

•Realizing how different people can make absolutely opposite bets and all still come out ahead

You'll come away with new insights into how the stock market really works—the power of expectations, stock buybacks, and profits—and explore Starbucks' phenomenal growth and whether it is sustainable. By unraveling the market's mysteries, Grande Expectations shows how investing can be both profitable and understandable. Get ready for the ride of your life—and a lifetime of fruitful stock market success.


From the Hardcover edition.
About the Author
KAREN BLUMENTHAL has been a business reporter or editor for nearly twenty-five years, including two decades at The Wall Street Journal. Her previous book, Let Me Play: The Story of Title IX, won the Jane Addams Children's Book Award for older children. Six Days in October, a book for young people on the 1929 stock market crash, was named a Robert F. Sibert Honor Book by the American Library Association.


From the Hardcover edition.
Praise For Grande Expectations: A Year in the Life of Starbucks' Stock…
"If you want to know why a stock goes up and down, if you want to be able to make money with that information, this book is for you. I have never ever seen such an indepth and fascinating look at how a growth stock works. This book, while having a great read on Starbucks, transcends that one stock and gives you a tremendous insight into how the whole market works."
--Jim Cramer, Markets commentator for thestreet.com and host of CNBC's Mad Money with Jim Cramer


From the Hardcover edition.