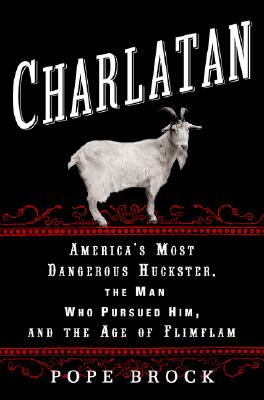 Charlatan
America's Most Dangerous Huckster, the Man Who Pursued Him, and the Age of Flimflam
Hardcover

* Individual store prices may vary.
Other Editions of This Title:
Digital Audiobook (2/18/2008)
Paperback (1/13/2009)
Compact Disc (2/19/2008)
MP3 CD, Abridged (2/19/2008)
Compact Disc (2/19/2008)
Description
In 1917, after years of selling worthless patent remedies throughout the Southeast, John R. Brinkley–America's most brazen young con man–arrived in the tiny town of Milford, Kansas. He set up a medical practice and introduced an outlandish surgical method using goat glands to restore the fading virility of local farmers.

It was all nonsense, of course, but thousands of paying customers quickly turned "Dr." Brinkley into America's richest and most famous surgeon. His notoriety captured the attention of the great quackbuster Morris Fishbein, who vowed to put the country's "most daring and dangerous" charlatan out of business.

Their cat-and-mouse game lasted throughout the 1920s and '30s, but despite Fishbein's efforts Brinkley prospered wildly. When he ran for governor of Kansas, he invented campaigning techniques still used in modern politics. Thumbing his nose at American regulators, he built the world's most powerful radio transmitter just across the Rio Grande to offer sundry cures, and killed or maimed patients by the score, yet his warped genius produced innovations in broadcasting that endure to this day. By introducing country music and blues to the nation, Brinkley also became a seminal force in rock 'n' roll. In short, he is the most creative criminal this country has ever produced.

Culminating in a decisive courtroom confrontation that pit Brinkley against his nemesis Fishbein, Charlatan is a marvelous portrait of a boundlessly audacious rogue on the loose in an America that was ripe for the bamboozling.
Praise For Charlatan: America's Most Dangerous Huckster, the Man Who Pursued Him, and the Age of Flimflam…
"Told with uproarious brio…heavenly…A book so lively that its wild stories are virtually wall to wall."
—Janet Maslin, New York Times

"An extraordinary saga of the most dangerous quack of all time…A talented storyteller, [Brock] digs deep into the personal secrets of his characters…entrancing."
—USA Today

"You will devour Charlatan, Pope Brock's tale of fools and fanatics.  With a vast and wild cast of characters, and filled with issues and topics that resonate through the years Charlatan begs comparison with Erik Larson's The Devil in the White City and deserves to be a best seller."
—Chicago Tribune

"Written with glee, in a style that is pure gusto, a bubbling fountain of metaphor and arresting image…Fishbein's campaign against Brinkley makes up one strand of this extraordinary tale and provides it with a bravura courtroom finale."
—Boston Globe

"Superbly crafted and enthralling...Brock's droll style is perfect for this tale of trickery and credulity."
—Financial Times

"Hugely amusing [but also] dark and cautionary, a reminder of the high price of gullibility and ignorance."
—Jonathan Yardley, Washington Post Book World

"A compelling slice of lurid Americana…fun to read."
—Entertainment Weekly

"Fascinating…Brock is gifted."
—Associated Press

"Pope Brock reaches into the past and captures an incredible story…perceptive."
—Chicago Sun-Times

"An irresistible and wide-ranging slice of popular history."
—The Seattle Times

"If Hollywood hasn't already optioned [this], what's keeping it?
—David Gates, Newsweek

"Wonderful…a gripping narrative"
—Nature

"A rollicking biography–at turns funny and horrifying, brimming with wit, insight and who-knew facts."
—Wichita Eagle

"Wonderful American social history and lots of fun."
—Kirkus Reviews

"In this lively and absorbing biography, Brock deftly captures the consummate snake-oil salesman and gifted entrepreneur John R. Brinkley…recommended."
—Library Journal

"Brinkley's astonishing rise and fall story is told with wry good humor in Charlatan…compelling."
—The Times (Acadiana, Louisiana)

"Brock exploits the outlandishness of Brinkley's escapades to brilliant comic effect."
—Washington CEO

"This spellbinding saga of a once-famous medical man who left all too many corpses in his wake is nothing short of spectacular. Impeccably researched, smartly crafted, beautifully written, it's a pure joy to read. And dealing, as it does, with eternal traits of human greed and gullibility, this extraordinary book is timely as well as timeless…A mesmerizing must-read, written by a writer of exquisite talent…One is left with the kind of reaction one has after reading a masterpiece."
—Heinz Kohler, Willard Long Thorp Professor of Economics, Emeritus Amherst College

"Take the Duke and the King in Adventures of Huckleberry Finn. Roll them into one. Hand this creature a scalpel, a radio microphone and the sweet-talking skills to get filthy rich hawking a deadly implantation of goat sexual organs to gullible American men– and women. Then set him about transforming American pop culture in the 1920s and 30s. You have John R. Brinkley, a con artist of leviathan proportions. Pope Brock's true-life account of this comic-evil monster is nothing less than Twainian: a blend of reportage, social history, portraiture and storytelling in the gland--excuse me, in the grand tradition."
—Ron Powers, author of Mark Twain: A Life

"Come one, come all, to the fabulous, hilarious world of rheostatic dynamizers, foot-powered breast enlargers, and goat-gland transplants--the surreal province of one John Brinkley, diploma-mill quack and flimflammer extraordinaire. With perfect pitch story-telling and wonderfully stylish prose, Pope Brock gives us a portrait of a master fraud as Brinkley works the ballyhou-stoked pseudo-science of the Twenties and Thirties to take in millions, while dodging ex-patients, the law, and the AMA. A dazzling cast of walk-ons includes Sinclair Lewis, Eugene V. Debs, a hypochondriacal H. L Mencken, Mussolini, and Sigmund Freud, not to mention Nora, the Monkey Turned Woman. Stranger than fiction doesn't really say it. This is a book you won't put down and a story you'll never forget."
—James R. Gaines, author of For Liberty and Glory: Washington, LaFayette and Their Revolutions

"Shocking and hilarious in equal measure, this is an extraordinary story of greed, gullibility and goat-glands. In chronicling the outrageous career of John R. Brinkley, king of the quack doctors, Pope Brock has also written a cautionary tale for our own times – about celebrity, mass-marketing, media power, political huckstering and the dangerous allure of mumbo-jumbo. As irresistible as Brinkley's snake-oil, and far more invigorating, Charlatan is an instant classic."
—Francis Wheen, author of How Mumbo-Jumbo Conquered the World and The Irresistable Con: The Bizarre Life of a Fraudulent Genius

"Astonishing…This masterfully told story of the world's most dangerous quack and the medical sleuth who tracked him down is a delight. Brock skilfully mines the narrow fissure between cutting-edge medicine and outrageous quackery while plumbing the depths of human credulity. His punchy, exuberant style is spot-on perfect for this improbable tale of money, murder and menace."
—Wendy Moore, author of The Knife Man: Blood, Body-Snatching and the Birth of Modern Surgery

"Before 'The Mythbusters' put truth to the test on national television (usually by blowing things up), and before the Amazing Randi went on the Tonight Show with Johnny Carson to expose charlatans and frauds in front of millions, there was Morris Fishbein, a quackbuster extraordinaire who relentlessly pursued the greatest charlatan of the 1920s and 1930s, one Dr. John Brinkley, huckster of quack cures and remedies, commercial hustler and schemer, and in the end a cold-hearted murderer. Pope Brock's gripping tale of fraud and flimflam is at once compelling and disturbing--compelling because it's such a great read, disturbing because it reveals the endless gullibility of human nature."
—Michael Shermer, Publisher of Skeptic magazine, monthly columnist for Scientific American, author of Why People Believe Weird Things, How We Believe, and Why Darwin Matters

"Charlatan is the fabulous tale of John R. Brinkley, notorious purveyor of goat-gland flimflam, and unsung pioneer who changed the face of American politics, mass media, popular taste, and–yes--medicine."
—Joel Best, author of Flavor of the Month: Why Smart People Fall for Fads

"Charlatan is a serious work of history that reads like a novel. It tells the story of the little-known Dr. John Brinkley and his unquenchable thirst for fame and fortune. Along the way, however, it paints a refreshingly unique and vivid portrait of America as it struggled to maintain its Jacksonian faith in democracy at the same time that it looked to the magic of scientific experts to find new cures to old problems. Rarely has history been this fun, fast-paced, or fulfilling."
—Steven M. Gillon, author of Ten Days That Unexpectedly Changed America

"A fascinating look at one of America's most dangerous quacks and the advertising and political maneuvering that sustained him. Must reading for everyone who wants to understand the dark side of the marketplace and the vulnerability of its victims."
—Stephen Barrett, M.D., Head, Quackwatch.org, author of The Health Robbers







Crown, 9780307339881, 336pp.
Publication Date: February 5, 2008
or
Not Currently Available for Direct Purchase