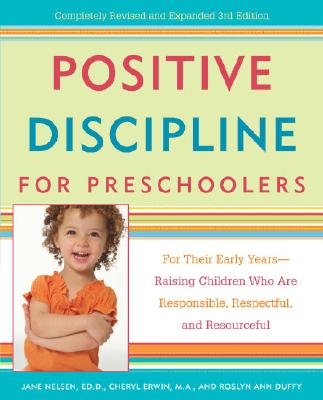 Positive Discipline for Preschoolers: For Their Early Years--Raising Children Who Are Responsible, Respectful, and Resourceful (Paperback)
For Their Early Years--Raising Children Who Are Responsible, Respectful, and Resourceful
Three Rivers Press (CA), 9780307341600, 356pp.
Publication Date: March 27, 2007
Description
Completely updated to report the latest research in child development and learning, Positive Discipline for Preschoolers will teach you how to use methods to raise a child who is responsible, respectful, and resourceful.
Caring for young children is one of the most challenging tasks an adult will ever face. No matter how much you love your child, there will be moments filled with frustration, anger, and even desperation. There will also be questions: Why does my four-year-old deliberately lie to me? Why won't my three-year-old listen to me? Should I ever spank my preschooler when she is disobedient? Over the years, millions of parents just like you have come to trust the Positive Discipline series and its commonsense approach to child-rearing.
This revised and updated third edition includes information from the latest research on neurobiology, diet and exercise, gender differences and behavior, the importance of early relationships and parenting, and new approaches to parenting in the age of mass media. In addition, this book offers new information on reducing anxiety and helping children feel safe in troubled times. You'll also find practical solutions for how to:
- Avoid the power struggles that often come with mastering sleeping, eating, and potty training
- See misbehavior as an opportunity to teach nonpunitive discipline--not punishment
- Instill valuable social skills and positive behavior inside and outside the home by using methods that teach important life skills
- Employ family and class meetings to tackle behavorial challenges
- And much, much more
About the Author
Jane Nelson, Ed.D., is a licensed marriage, family, and child therapist, and an internationally known speaker.Cheryl Erwin, M.A., a licensed marriage and family therapist, is the author or coauthor of nine books on parenting as well as a popular speaker, trainer, and parenting radio personality.Roslyn Ann Duffy founded and codirected the Learning Tree Montessori Childcare and has written adult and children's texts, as well as the internationally circulated column "From a Parent's Perspective."
Praise For Positive Discipline for Preschoolers: For Their Early Years--Raising Children Who Are Responsible, Respectful, and Resourceful…
"The Positive Discipline series has empowered me and my husband to be the kind of parents we want to be day-in and day-out in the face of any and all circumstances. What really struck a chord . . . is that the concepts are simply and clearly presented chapter by chapter in easy-to-read language regarding real-life everyday scenarios. Thank you very much for the contribution you have made to my family's lives."—Mary S. McMahon"Thank you so much; the material you provide is so valuable. I have seen such marvelous results with my son in the past few months. For me, one of my biggest priorities is to help him develop into who he is as a person, and not smother his identity or confidence. Your methods have been such a valuable tool in enabling me to accomplish this." —Maureen Pramanik"When I first became a parent, about six and a half years ago, I fell upon your books and have thoroughly enjoyed them. I have given many of your books as gifts to my friends and family because they teach kids to think for themselves, be responsible, resilient, capable, considerate, etc. Your books have really helped me learn the skills I want to become a better parent." —Teresa Bouchard
Advertisement